Clauses Of Sara Ali Khan – Recently, there was news on the internet saying "Sara Ali Khan convinced Kareena Kapoor Khan and Saif Ali Khan to break their no-kissing policy."
Yes, she did it.
Earlier, back in 2012, Bollywood's hot & sexy couple decided that they'll never kiss on-screen. There was straightly no-kissing clause included in the contracts. But like we saw; both the couple ditched the clause and went ahead to kiss on-screen. Everyone was wondering why and who convinced them to do it so.
Well, now it's all revealed that it was Saif Ali Khan's daughter "Sara Ali Khan" who actually convinced them to take back the clause from contacts. One must say that she certainly succeeded in convincing them both.
It is been said that Sara Ali Khan advised Kareena & Saif that they should keep their "no-kissing" deal off the screen because the kinds of movies and characters Bollywood is venturing into, Kissing is just another scene.
Yes, you've read it right.
(Image Source – Mirchi9.com)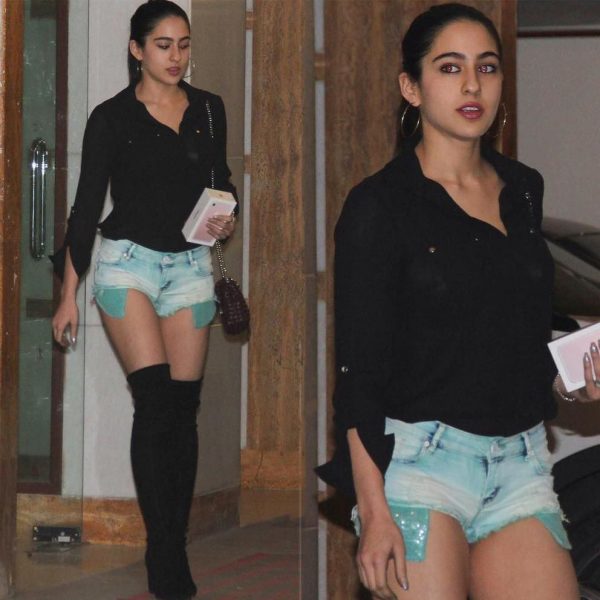 Kissing is just another scene clearly indicates that Sara Ali Khan is comfortable to say "yes" for an on-screen kiss if the movie script demands. Sara Ali Khan seems to be the one who is starting to understand Bollywood movies in depth. So, certainly we can say that even though she is a newbie, she'll have no trouble while adjusting in the Bollywood industry.
As of Sara Ali Khan's debut; there are a lot of rumours going on about her movie involvements. She was earlier said to make her debut opposite Tiger Shroff in SOTY 2, but she took a step back. Later, she was rumoured to be starred opposite Aamir Khan in "Thugs Of Hindostan". Plus, she was also rumoured to be in the Hindi version of "The Fault In Our Stars".
But unfortunately, nothing like that is happening now.
So, we will now have to wait and watch for her debut. But yeah, one thing is clear, that if her good script demands kissing on-screen, Sara will certainly not hesitate to accept it.
Clauses Of Sara Ali Khan – This was all about Sara Ali Khan. Are you excited to watch her in movies?