Bahubali 2 Review – So, the day is finally here when the most awaited film of the year hits the theatres worldwide!
Yes, we are talking about Bahubali 2: The conclusion. The film was all set for its gigantic premiere at 9000 screens worldwide but India's premiere was put on hold due to the demise of veteran actor, Vinod Khanna.
However, the Dubai-based fans of Bahubali 2 obviously did not wait to reveal the answer to the most tormenting questions of all times, "Why did Katappa kill Bahubali?"
Let's find out what Twitteratti have to say – Bahubali 2 Review …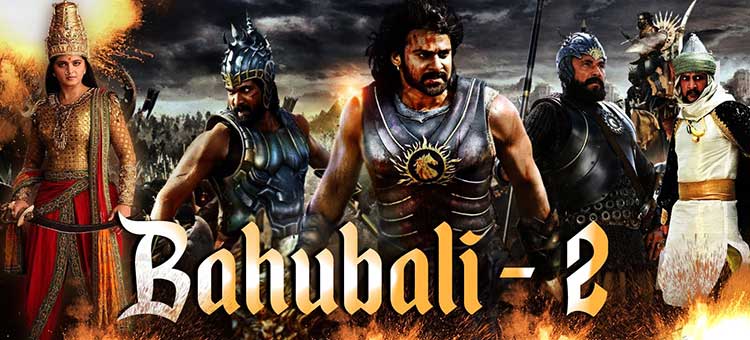 Bahubali 2 Review –
Milhanmf posted during the interval of the film and wrote, "…1st half done. Wow visual treat, screenplay, another level….1st half enough for your ticket money". I am sure he is right about that!
Kamaljii posted, "Dubai #Bahubali2… 1st half many Goosebumps moments.. Don't miss the title card, Anushka fight…. stunning visuals, BGM and Big twist towards interval" so, the interval scene is something to really look forward to!
Idlebrain Jeevi posted, "Goosebumps start with Amarendra #Bahubali2 ani Nenu and ends with interval card! That's why he is called Rajamouli. Fantastic 1st half!"
Jaf posted," #Bahubali2 finished movie. Wat a movie, simply superbbb, 4.9/5." He tagged "@ssrajamouli" and posted, "@ssrajamouli, you have golden hands. Guys (u cant) keep calm and enjoy #Bahubali2"
Prince Prithvi posted, "Wow, Rajamouli and suspense didn't disappoint. Lives up to the hype. Overall grandeur better than original. (4.5*/5)"
Idlebrain Jeevi again posted, "Done with #Bahubali2 fil. It's nice! Now. I know why Katappa killed Bahubali #wkkb. It will be a bigger blockbuster than #Bahubali1!"
A user with the user id "@geselva__" posted, "#Bahubali interval: 2 times better than part 1, top notch execution with soulful performances. Goosebumps at interval sequence #worthu"
These are Bahubali 2 Review – The hype of Bahubali 2 is so much that a Rs. 500 ticket is being sold for Rs.1500 and people are still buying it! Over all the movie by far gets a rating of 4.5, but  you never know it might get 5 stars or even 4 well check for yourself.After reading the Twitter reviews, it is very clear why all the hype!
Go grab your ticket before it's too late!