Aamir Khan's PK transistor – we talk about rumours that the transistor used by Aamir to cover his modesty in PK poster is up for sale at Rs. 1.5 crore. He has declined to sell it though!
Aamir Khan's latest film PK is about to be released, the year is coming to an end and amidst all this excitement comes the news that there are buyers queuing up to buy his izzat at a staggering price of Rs. 1.5 crores!
Isn't this shocking?
Well, if sources are to be believed, Aamir is not ready to sell his izzat so easily, or may be so cheap! But first of all, you all must be wondering which izzat are we talking about?
To pull down the curtains on Aamir's izzat, let us tell you it is about the much-famed centuries old transistor he has used in PK's poster to cover his private parts while revealing his otherwise sculpted body!
That is his izzat, right?
After all if not for that transistor, there would have been nothing left for imagination for millions of his female fans. As far as male fans are concerned, they would have got something to compare with, but that's another story for another day!
For now, the transistor has become so popular that people are planning an auction for it and are ready to pay the humungous amount which the transistor would never have fetched even if sold as an antique piece fifty years down the line.
The only claim to fame is that it has been really close to what Aamir might consider his trump card, at least in his private life!
Going by this logic, the price of Rs. 1.5 crores look really small, isn't it?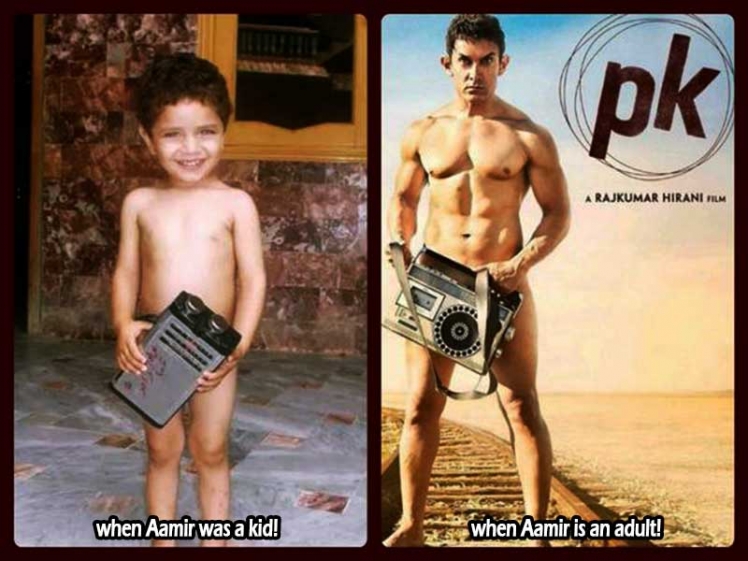 Come on now, we are talking about Aamir Khan, the most successful of the Khans, the most intelligent of the three Khans and one of the best actors across several generations of Indian actors. His izzat only for Rs. 1.5 crore?
Na, not fair!
That could be the reason he has declined to sell the transistor for any amount or may be he is just testing the waters!
Aamir must be super excited to know the real value this transistor might fetch him for as per the reports, it was bought for a paltry Rs. 270 only from Chor Bazaar! This is called real appreciation of a product, that too after usage.
Wish there were some investment products for common man, which can guarantee such returns on investment.
Anyways, it is Aamir who invested in such a product; even his underwear would get a better return than a gold-plated car!
Let's just hope this is not another publicity stunt for his movie. Aamir doesn't need such cheap stunts to bring audience in theatres.
Focus on promoting the movie, Aamir, the transistor will sell for an even higher price if the movie is any good!