As Amitabh Bachchan turns 71 today, we give you as many reasons to tell you why we love him so much!
It's going to be complete madness at Juhu, Mumbai today. For that's where the country's most loved legend and birthday boy Amitabh Bachchan resides. With over four decades in the industry and still going strong, he is truly one of the finest superstars Bollywood has ever seen. As he puts on his party shoes and celebrates his 71st birthday, we give you as many reasons (in no particular order) to tell you why Big B is a legend. Read on!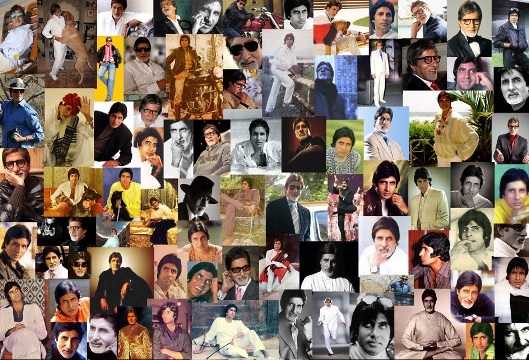 1) He redefined Bollywood cinema with his action-packed roles that ushered in the era of the 'Angry Young Man'.
2) He is one of the most versatile actors in the industry. Having done main leads, negative shades, challenging roles and love stories!
3) He is one actor who takes his fans seriously. He never misses out on his weekend 'waving' sessions from his balcony.
4) He is one of the most active celebs on Twitter, with interesting and amusing Tweets through the day.
5) He has the midas touch. He turned Sony TV's fortunes around by playing the host of the popular game show 'Kaun Banega Crorepati'.
6) Such is his popularity that the show is currently in its sixth edition and going greats guns.
7) He is humble, polite and modest.
8) He is B-Town's favorite go-to man to play the 'suthradar' (narrator) in movies.
9) He is extremely punctual on the sets, despite being one of the leading stars of the country.
10) The 'Shehnzhah' of Bollywood enjoys as much clout in the industry today as any of the leading men.
11) He is the highest taxpayer from the entertainment industry.
12) He has gone Hollywood with his jew businessman role in 'The Great Gatsby'
13) He was honoured with the Padma Shri in 1984 and the Padma Bhushan in 2001 for his contributions towards the arts.
14) He is the only mainstream actor to find success as a playback singer!
15) He has won three 'National Film Awards for Best Actor'.
16) Such was his dominance in the 70s and 80s that the French director François Truffaut called him a 'one-man' industry.
17) He has 39 nominations at the Filmfare Awards. That's a record he holds!
18) During the 70s, his iconic screen name 'Vijay' was one the most popular given names for a boy.
19) Some of his sensational hits are 'Sholay', 'Zanjeer', 'Don', 'Agneepath', 'Amar Akbar Anthony', among many others.
20) His dialogue delivery and body language is mimicked by every actor.
21) When in 1982, during the shooting of Coolie he hurt his abdomen, there were offerings made in temples for his recovery. People even thronged hospitals to donate limbs!
22) When he briefly quit films to join politics, he won by one of the highest victory margins in general election history…that of 68.2% of the vote.
23) His majestic personality and booming baritone is something everybody is envious of.
24) With the amount og energy he has, he can give actors quarter his age a run for their money.
25) It's said that despite his vast experience and talent, the actor practices his lines like a newcomer.
26) His success story is inspirational. With no godfathers and not even much money, he has become the biggest hero of Bollywood.
27) He is quite witty and known to improvise his lines.
28) He has never had any fights with any co-star(s) in a career spanning over 40 years.
29) He has remained a non-smoker and non-drinker, setting a fine example for youngsters.
30) He hosted the third season of Bigg Boss and it was a roaring hit.
31) Iconic figure. Bhai, yeh jahan khade hote hain, line vohin se shuru hoti hai.
32) He is also famous for having the most number of punch dialogues.
33) He speaks both English and Hindi fluently, with a perfect diction and command over the languages. If he is speaking in one, he won't mix the other.
34) Be it his dancing, hand gestures and wide pants, he has his own trademark style that a generation of youngsters have followed and continue to do so.
35) After Rajesh Khanna, if anybody became a real superstar, it was Big B. Unlike Khanna, who lost his charm in his later years, Bachchan continues to rool the roost.
36) Fans come first to this legend, who is always ready to humour people for pictures and autographs.
37) He is quite in sync with the times as he knows how to easily adapt himself. Whether it's the dressing or the kind of roles he does, he is age-appropriate yet savvy.
38) He is famous for his experimental cinema. From playing an obsessed love in 'Nishabd' to chef who falls for one of his
customers in 'Cheeni Kum', he constantly pushes himself as an actor.
39) He is truly an actor par excellence. His roles have achieved cult status and are being remade with younger heroes who are struggling to do justice to him.
40) He shared a crackling chemistry with most of his heroines. From Rekha to Parveen Babi to wife Jaya, he has done marvelous films with these beauties.
41) The legendary actor is a strict vegetarian who follows a proper diet and gym sessions.
42) He dotes on granddaughter 'Aaradhya', who he sheltered from the public eye for a very long time.
43) He is an excellent father who has stood by son Abhishek through the latter's flop phase and acted alongside him to boost his career graph.
44) He walks barefoot to the Siddhivinayak temple in Mumbai. He is quite religious like that.
45) He tries to endorse products that bring about a social change. Remember the 'Do Boondh Zindagi Ki' Polio campaign?
46) At 6 ft 2 inches, he is one of the tallest actors in the industry and that starpping personality does have the desired effects on the ladies.
47) He is the first Asian to have his wax statue at Madame Tussauds Wax Museum in London.
48) His houses 'Prateeksha' and 'Jalsa' are famous tourist spots of Mumbai.
49) He has a song 'Bachchan' in the movie 'Bombay Talkies' that celebrates 100 years of Indian cinema.
50) Despite hitting the 70 mark, he doesn't look old! He is one of the few starts to have aged gracefully.
51) He is raring to go even now as he fits comfortably with young directors.
52) His style staments have ruled Bollywood like no other actor's.
53) You know he is a tremendous actor when he act drunk onscreen despite being a teetotaler in real life.
54) He has always credited his wife for his success as he became a superstar after his marriage to Jaya Bhaduri in 1973.
55) He is a thorough gentleman, which is evident even on his game show on TV 'Kaun Banega Crorepati'.
56) His is supposed to be a no-nonsense actor who doesn't sugar the pills.
57) He loves to read and write. And blog about his experiences with his fans.
58) Amitabh Bachchan was conferred an Honorary Doctorate by the Queensland University of Technology in Australia. But the actor turned it down as this was during the racial attacks on Indian students in Australia.
59) He is a self-made man, hence an inspiration to millions of men and women. He urges us to dream and conquer.
60) He is a liberal pa-in-law to bahu Aishwarya. With reports of the doting bahu rani making a comeback, it doesn't look like Bacchan has any issues about it.
61) He is quite tech savvy and loves new gadgets.
62) He is such a generous friend that he worked for free for his close industry buddies!
63) His holi parties are legendary in the film circles.
64) He is very emotional as was evident during the funeral of Rajesh Khanna. This makes him more real and approachable.
65) The 70s and 80s can be safely called as the best phase of Bollywood as Senior B kept churning out hits after hits.
66) He is said to have done his own stunts during his action hero days.
67) He is also an excellent poet, thanks to father Harivanshrai Bachchan's influence.
68) He is so devoted to his parivaar that he tries to have at least one meal with the entire bunch.
69) He never forgets birthdays or special days as he makes it a point to send across something or the other to his friends and family.
70) Even during the public fallout with brother Ajitabh, he never spoke against him.
71) He has more projects in hand than any seasoned actor!
Wish you a very happy birthday, Big B! Continue to charm us…