It has been many years since Baba Ramdev, the Yoga Guru of the nation, has been in the news, mainly for his weird and unbelievable postures during yoga.
After being just the Yoga Guru of the nation for a long time, he gradually began to launch his own range of Ayurvedic products under the brand name of Patanjali Ayurveda Limited.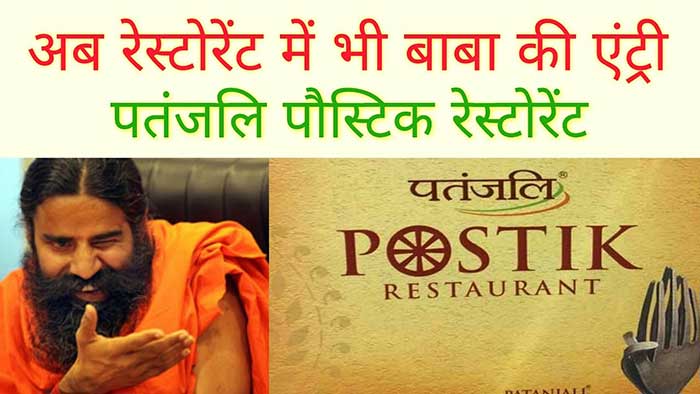 Starting from several candies that encourage weight-loss, to mustard oils, to even Patanjali Maggi, he has launched an array of herbal and natural products. Not only in the field of food and drinks, but also in the field of skin and hair care has he launched some really amazing products. The Patanjali Aloe Vera gel is one such product that works like magic, really.
All these products had become extremely famous in every household the moment they had hit the markets. The Patanjali Maggi has become a hit among the kids and the skin care products have now been topping the charts as well. With all these already very much in talks, Baba Ramdev has now come up with something that will leave his mark upon the hospitality industry as well!
Yes, you heard that right. Baba Ramdev or Patanjali Ayurveda has opened its first vegetarian restaurant in Chandigarh under the name Postik Restaurant. "Postik" is a Devanagari word or Hindi word which means nutritious. This restaurant falls under the multi-speciality Hotel Indianoin Zirakpur. The restaurant boasts of the trademark Patanjali logo at the very entrance and contains pictures of  Baba Ramdev and Acharya Balkrishna.
The dishes in the restaurant are all vegetarian and are cooked with care.
The nutrition value of the foods are great. The secret is that all the items are made from the Patanjali products, including all spices and cooking oil. Patanjali drinks and sweet are on the menu as well. You could try the delectable Tandoori Karela and the Lauki Kabab!
Indian express has called Postik Restaurant to be an "ode to Patanjali and Baba Ramdev".It is however, still under discussion whether Postik Restaurant actually belongs to the Patanjali group.