Plan a trip to Durban to experience a new thrill with Karkloof Canopy Tour…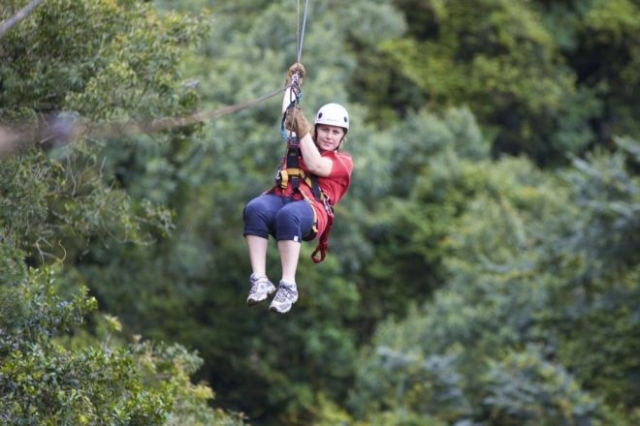 Do you fancy swinging from one tree to another in a deep forest a la Tarzan? Plan a trip to Durban to fulfil your dream and experience a new thrill with Karkloof Canopy Tour, which makes you slide through steel ropes from one platform to another above the forest and gives an adrenaline rush in the true sense.
If a visit to Mahama Gandhi's Phoenix Settlement and a ride in Sky Car that takes you to the top of the arch and allows you a 360º view of the city at the Moses Mabhida Stadium in the city leaves you wanting for more, go for the canopy ride in the Karkloof Forest Reserve, about 150 km from Durban.
The adventure sport awaits you to add a thrill to your trip and the best part is that once you start, you have to finish it and this is a challenge in itself.
"I really I liked it. It's non-commercial and not stereotypical," Bollywod actor Abhay Deol, who experienced the ride, told IANS.
The Canopy Tour is the creation of Mark Brown, a civil engineer who started it in 2001 in collaboration with Ashley Wentworth in the Tsitsikamma National Park. Today, there is a total of five such rides in South Africa, the others being at Magoebaskloof, Drakensberg, Magaliesberg.
Open throughout the year, except on Dec 25, Karkloof gets about 50-60 visitors every day and is an alternative to experience thrills if bungee jumping is too extreme for you, and is a great option for groups and families.
Every slide is full of surprises and in between them are packed not too difficult activities.
But make sure that you do not weigh more than 130 kg and that you have made an advance booking through karkloofcanopytour.co.za.
From seven-year-olds to 70-year-olds, everyone can enjoy the ride, which is about three hours long.
Photographs and post ride snacks are taken care of, Gordon Stuart, operations manager of Karkloof Canopy Tours, told IANS.
"The cables are checked every morning. Once in a month we have a detailed check and once in six months, Mark Brown personally checks every detail of the system," said Stuart when asked about the safety measures. Thus far, there have been no casualties, he added.
All the guards are trained in first aid and for emergencies, there is a tie up with Mountain Club of South Africa and for ambulances with Berg Medical Services, a 10-minute drive from the spot.
"It is a must for every guest to sign indemnity form," said Stuart.
Still having doubts?
Worry not as trained guards will accompany you and in a situation where a guest gets too nervous to go on his or her own, the guard comes along and make the ride enjoyable for them.
Bollywood filmmaker Sanjay Gupta, known for making action thrillers like "Shootout At Wadal", took the plunge despite having vertigo issues.
"The best part is that it is completely safe and there have been no casualties so far," Gupta told IANS.
But once you start, you can't go back.
"It looks dangerous and when you do it, it feels risky but it's 100 percent safe. Personally, I have vertigo issues … so it was a very big thing and the only reason I did it was for my son. And the best part about it is that you can't give it up, you have to complete it," he added.
Stuart said that 60 percent of the visitors are international tourists.
While experiencing this excitement of pure adventure in the lap of nature, you are fed well and also if you are daring enough, try to drink pure water coming down from the streams.
There is five-star and four-star accommodation in the area, where you can stop over and enjoy the hospitality.
Getting there:
Karkloof is about a one-and-a-half hour enjoyable drive from Durban.
Fees: Rand 400 (Rs.2,500) per person, including toasted sandwhiches, side salad and soft drinks
Group discounts are also available
-Arpana, IANS