Indian luxury holiday destinations – The country flaunts copious luxurious stays, keeping the comfort and luxury factors of the tourists at priority.
For years India attracts tourists from all over the world for its natural scenic beauties, rich heritages, unparalleled diverse culture, unique delicacies and warm hospitality.
Is that all?
Certainly not! Take the next plunge, as India is offering all these incredible features and many more wrapped up in luxurious packages.
Today we take you to a luxury dipped journey in our very own India!
Up On The Hill: The Posh Mayfair
Designed in colonial architecture, the Mayfair Spa Resort, Gangtok is hemmed in the mystic Himalayan jungles. A perfect blend of natural spectacle and man-made comfort, it is the best facility in this province to discover opulence while one is on a luxury holiday.
One can decide among its seven accommodation options. Room is the basic facility with beds and cozy lounges along with a private sit-out. Family rooms have two bed rooms with private balcony and inter-linked rooms with huge sitting area. Premium Cottage has a family room, a private balcony. With an approximate carpet area of 1,200Sqft, the Suites provide luxurious drawing room in conjunction with the stylishly done bedroom and private verandahs. For uber-luxurious experience, select from its Villas which come in two categories. To enjoy the private bar, the private sit-out, the outdoor kitchenette, the Jacuzzi; one can pick the Royal or Regent Villa with two bedrooms or else the Crown / Oriental Villa, with one bedroom. However it won't be wrong to say that the Imperial Villa with two bedrooms and the Grand Villa reflecting sheer grandeur; introduce one to the highest echelon of extravagance as one soaks in the magnificent ambience. To describe its bravura interiors, even a mention of the washrooms is must, as they too spell similar saga of splendor.
The stay will be incomplete, if one keeps his taste buds deprived of the special dishes and delicious platters prepared with fresh spices and healthy cooking techniques. One can go for a la carte dining in Orchid, be it Indian, Oriental or European cuisines. Not to miss the Casino Mahjong, India's first five star full-fledged on-shore live gaming casino.
To experience self-pampering one must visit its second best feature, the Pevonia Spa which got the tag of The Best New Spa 2009.
Opulence On The Wheel: Maharajas Express
How about living luxury while on the go? Sounds interesting! Offering the state-of-the-art facilities on board, the luxury locomotive is an inseparable part of luxury holidays in India. Maharajas Express is considered as Asia's most lavish train. Decide on any one of its five fascinating pan-Indian journeys named "The Indian Splendor", "The Heritage of India", "Treasures of India", "Gems of India" or the "Indian Panorama" and one can visit an array of UNESCO World Heritage Sites like the Taj Mahal, FatehpurSikri, JantarMantar, Khajuraho Group of Monuments, so on and so forth. The category is dubbed as India's equivalent to the Orient Express of Europe. It consists of 14 guest carriages that accommodate 88 guests. There are 20 Deluxe Cabins, 18 Junior Suites, 4 Suites and a plush Presidential Suite offering elegant living, comparable only to five-star living. There is a private butler for each cabin. Relish its royal feast from two of its dining cars Mayur Mahal and Rang Mahal. One can opt for en-suite private dining as well. The urbane Safari Bar and Rajah club are there to offer a toast to one's timeless passionate bonds.
A Swanky Sailing: Casino Royales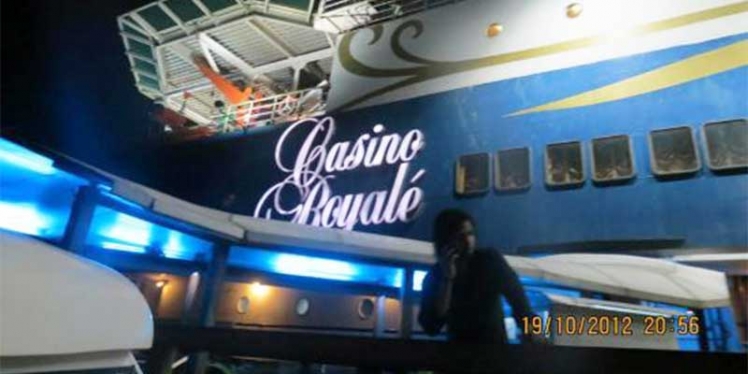 The plus affairs can reach to its pinnacle when one can indulge in some of the most exhilarating and fun filled extravaganzas. The next spot, while on a luxury tour, has to the Casino Royale. It is the largest and most popular floating Casino anchored on the river Mandovi, Goa.
It houses five decks and three floors of gaming. The gaming area is spread over 12,000 square feet, comprising 50 gaming tables, 30 slot machines and top level tournaments every week. It has a gaming floor dedicated to all table games and slots. There is a poker room exclusively for poker. It also has an entire dining floor with food catered by China Garden.
One can try his or her luck on the best of gaming from Black Jack, Rummy, American Roulette, Baccarat, Stud Poker and Flash. Besides these games, there is a wide variety of live entertainment programs by international performers who showcase their extraordinary skills, daily on the dining floor and on the sundeck (during non-monsoon months) of the ship.
When one wishes to have a real lavish vacation, akin to it vast expanse and diversities, India can christen the optimum level of luxury stays for any traveler!