Here is a quick guide that will help you understand what kind of autowala is riding you to your destination when in Mumbai…
Mumbai is considered to be the city that never sleeps. People of this city are always on a move. Public transport here is much organised than many other cities of the country. All said and done but Mumbaikars also have travel issues especially if they have to hunt for an auto rickshaw.
Finding an auto rickshaw these days has become like a herculean task. Though there are many areas in the city where people maintain a queue there are many other places where people behave as if they are on a battle ground.
The ones who win the battle get the privilege of hearing the meter down sound first. What follows next is often an interesting journey when the autowala opens his mouth. Here are 5 kinds of autowalas you will end up meeting in Mumbai who will make you laugh, yell, pick a fight, smile or even make you fly…
The storyteller
He is that autowala who has an interesting story to share with you randomly. He can also ask your advice for making an important decision in life. He might end up talking about is love life, marriage problems, dreams that he has for his children or talk about his investment plans.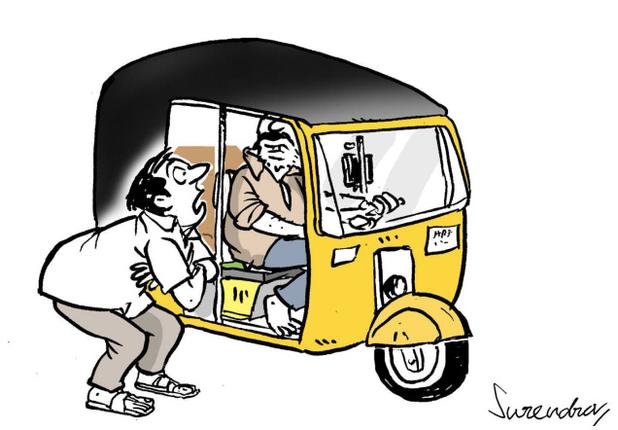 Picture courtesy: The Hindu

The angry rude old man
He is that autowala who spoils your day or ends your day on a bad note. He is quick in saying a no. He is the one with a loud voice that makes a noise for everything. He is the one who abuses fellow riders on the road. He thinks he knows it all and if you ask him to slow down he might just ask you to get down.
Picture courtesy: ohdakuwaqa.com

The wannabe dude
He is the one who thinks, he is super cool. He will have earphones with a made in china label tucked to his shirt. He speeds up as if he is flying a jetplane. He will make sure he checks out every woman who passes by. He will not leave a moment when he can showcase his singing abilities.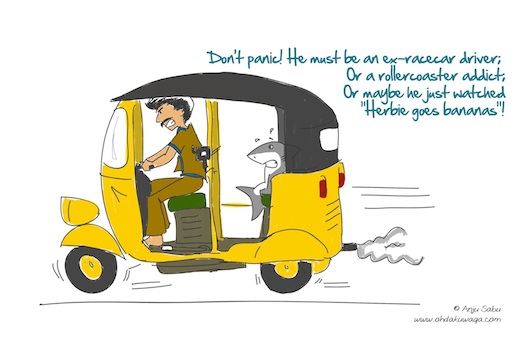 Picture courtesy: Kartooning Blog

The cheater
He is one who you would ask to take an u-turn so that you can take him to the police station. His meter always has a problem. He is bad with right directions. He will never have change to return you. He will always have justifications to charge you extra.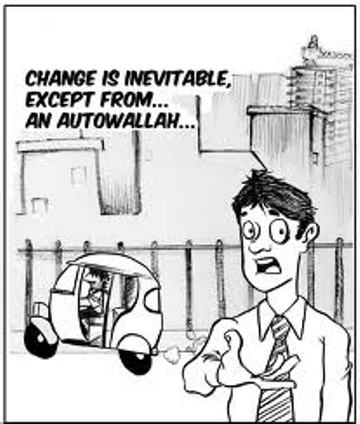 Picture courtesy: Purple MoMa Blog

The good guy
He is the one who only lucky ones find. He instantly agrees you to take request. He is honest. He will return extra money to you. He acts like a rescue agent in times of emergency. He is one who fetches a thank you from you.

Picture courtesy: Indiatimes.com