Majuli, seven sisters region in Assam and Tarkarli beach in Maharashtra are unexplored and exotic travel destination in India under Rs. 2000 a day.
So you love to explore new places?
You love to carry out the unravelling expeditions?
There is an unquenched thirst in you to know the unknown and explore the unexplored?
Everything in place but you are often short on budget?
Well, we come to your rescue. We bring to you some exotic spots of India you can explore under Rs. 2000 a day, which are not frequently travelled.
We all will agree that the hunger to travel to a new place often leads to great discoveries and innovations. The world is full of mysteries and travelling is the best way to unlock this mysterious box. India is a beautiful jewel piece in this box that holds many gems. In terms of physical land area India may be the seventh largest country in the world, but it is one of the richest in terms of culture, colour, diverse landscapes and natural resources.
Millions of foreign travellers from all around the world land in India to explore the romanticism hidden in it, spending huge amount of money.
We the Indians have everything to our access that we can voyage without shedding a fortune.
Let us start exploring under Rs. 2000 a day.
MAJULI – SEVEN SISTERS REGION – ASSAM
In the seven sister's region (North-East) only there is another natural wonder. Majuli in Assam is the largest river island on earth nestled amid the river Brahmaputra. Declared by UNESCO as a world natural heritage, this river island has preserved well the antique weapons, utensils, jewelry and other items of cultural significance of the hundreds of year old Assamese civilization. The natives of Majuli are worshipers of Mother Nature; agriculture and fishing are the prime source of earning for the local people. Majuli is truly the picture of nature at its best.
Get There
By Road
The ASTC buses, operating on a regular basis within the state, have day as well as night deluxe buses covering the distance from Guwahati to Jorhat in seven hours. Jorhat serves as the nearest road link from Majuli You can easily find buses connecting the city with other parts of Assam as well. The bus ticket from Guwahati to Majuli is only Rs. 211/-
By Ferry
There are at least two ferry rides to Majuli. The first ferry ride lasts for about an hour. After this, there is a ten minutes bus ride across Major Sapori which is yet another small island en route Majuli. The second ferry starts around 3 p.m. in the afternoon and is only for a short time. Finally, after another bus ride, the main town of Majuli, Kamalabari, is reached. The total expense by Ferry is under Rs. 300/-
Stay
The tourist lodges, monasteries and guest houses in Majuli offer accommodation and scrumptious local cuisine in the total cost of not more than Rs. 1500/- per day.
TARKARLI BEACH – MAHARASHTRA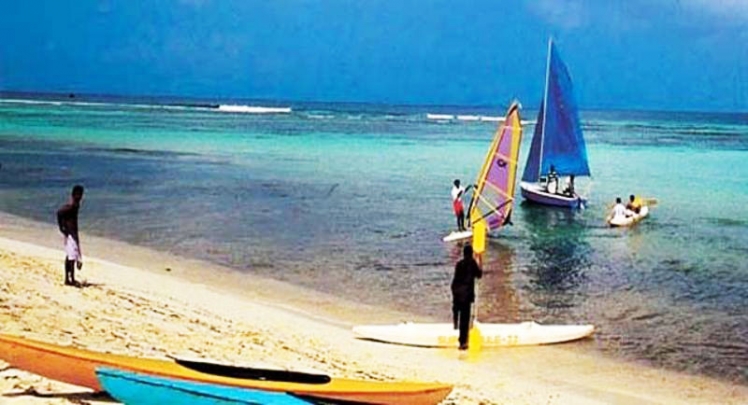 Take a few hours' drive from Mumbai or Pune, which will cost you not more than Rs. 500/- and you will reach the land of pristine waters, Tarkarli. Located at the convergence of river Karli and Arabian Sea, Tarkarli gives you a clearer picture of the sea water. It is a heaven for the adventure lovers who love to do snorkeling and scuba diving. If you love the calm, you can still feel the tranquil whispering of the sea waves in this less tourist frequented beach of Maharashtra. Just sit besides the immaculate sea and converse with the waves.
Get There
Tarkarli is easily accessible from Malvan by bus and rickshaw. Tarkarli is 475 km by Panvel Kochi Road, NH 17 and 576 km by Mumbai Kohlapur Road, NH 4 away from Mumbai. Daily private, luxury and State Transport bus service is available from various parts of Goa, Mumbai and Pune to Malvan.
Buses from/to Panaji:
Direct buses run from bus bay No.2 at the KTC bus stand in Panaji to Malvan which take 4.5 hours and cost Rs. 125. However, Malvan lies off NH-17 so direct buses are infrequent and they also take a longer route. The faster option is to break the journey in parts – Panaji to Sawantwadi which costs Rs. 56 and takes 1.5 hours, Sawantwadi to Kudal which is the the closest town to Malvan on NH-17 and costs Rs. 19 for 0.5 hours, and Kudal to Malvan costing Rs. 30, which lasts 1 hour 15 minutes – the total time is thus reduced to 3 hour 15 minutes. When returning from Malvan, remember that buses are infrequent (at least one leaves at 2 pm to Kudal) so take whatever you get to Kudal and take connecting buses back to Panaji as described above. Do not worry too much about the names of the bus stations if it is too much; ask the bus conductor where you need to break the journeys. Enjoy the scenery on the way and see India with a naked eye.
Stay
Many beach resorts and guest houses at Tarkarli offer overnight stay and meals under Rs. 1000/- a night.
India is such a diverse country that you need to plan frequent visits to this land to unlock its casket of jewels. In our next story we shall bring you some more unravelled budget destinations.
Keep an eye on this space.