Bookman is a business model by Nilambari Solanki, a 22-year old woman entrepreneur, which is not only about making books accessible to one and all, especially the disadvantaged children.
How many of us have grown up reading classical literature and how often do our mothers and sisters read books except for beauty and recipe books?
Children grow up mostly on comics and are not able to inculcate the good habit of reading and acquiring knowledge on different issues, only because they are not trained to do so since a tender age, nor are they equipped with good quality books around them that would build their inquisitiveness on varied subjects discussed in these masterpieces.
Today as the world advances in technology, there are options of e-books and online texts.
Infact, many of us do not even have a fixed attention span for reading proper print books that we can hold in our hands and therefore, prefer to keep bookmarks for e-books. Most of us would rather pick up a magazine and scan through its contents rather than going for understanding and analysing serious literature.
GenNext will imbibe our random reading habits more than anything and if we want to see them knowing and learning about the classics and find them interesting at the same time, we must employ in our daily lives what PM Modi once said on the pivotal role of new media technologies in making literature interesting for children.
Enough of Spiderman and Batman comics for children, now Bookman (started in March 2012) would give them what they need and desire! Especially in impoverished areas of India, like in some places of Ahmedabad, where children would not need big money to read big books. Several rural areas of the country have now come under Bookman's brainchild, Nilambari Solanki's attention, where she will open outlets soon. Hers is an entrepreneurship, yes, but it will also cater to the social cause of educating underprivileged children!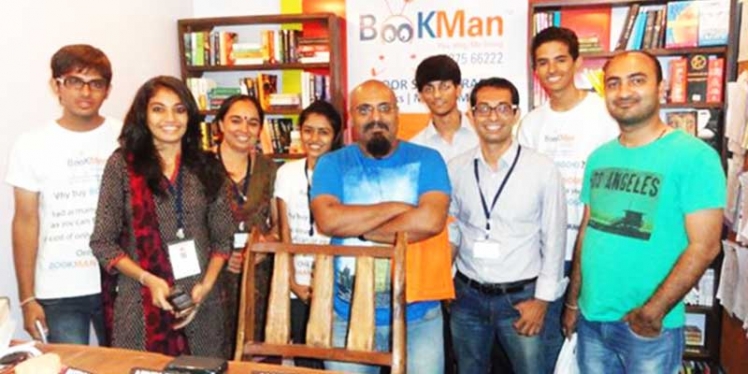 A political science student of Vadodara's MS University, Nilambari has certainly turned her passion of reading, creative work and working for upliftment of society her profession. As she claimed in her interview with The New Indian Express, "Bookman is an expression of what I stand for", she has truly been able to place the opportunity of reading right in the palms of these children. If you are thinking that even a NGO would be doing a similar activity in some other parts of the country, well, Bookman is different. While NGOs cannot function properly owing to financial constraints, Bookman generates profit, a part of which is kept aside for social causes.
The 22-year young girl as she likes to describe herself is a book-addict and loves to acquire knowledge. A topper as you might have guessed, she felt that there is an abyss between what we read in books and what our teachers teach us and what is actually useful and handy in our real lives. This simple idea inspired and motivated her to create a business venture and an innovative library, Bookman and apart from this Nilambari is also associated with other educational services.
The Bookman initiative is one of its kinds in that it gives an in-depth understanding of books and the preferences of the customer. Now you can also get your choice of books at your doorstep (also in bulk) and your children can learn much on real life skills and how to apply the theoretical, 'bookish' knowledge in their daily lives. These workshops can soon see adults participating too! The offers of Bulk Book Hire, Corporate Memberships, setting up Libraries, managing corporate social responsibility (CSR) are additional services that will lure you to become a loyal customer of the venture. Handling Ahmedabad's Sports Club and CIMS Hospital Libraries, Bookman is growing exponentially and way too quick, with Nilambari being called for attending workshops conducted by Vibrant Gujarat, Gujarat Chamber of Commerce and Industry (GCCI) and Google.
In the national book fair in Ahmedabad in the year 2013, Bookman also opened up a special stall where it accepted donated books for underprivileged children to read for free. PM Modi also donated a book on Sardar Patel here during his tenure in Gujarat as the Chief Minister.
Nilambari has done her research on how different students' different reading habits lead to a better schooling and enriched vocabulary and also on how many parents think that reading print books is a prerequisite for their kids. As she herself cultivated the reading habit at a very young age, she understands that academic success and real life situations can be better handled with reading habits. Her failed financial and organizational sustainability experiences in NGO's and other social organizations have led her to create this self-sustained venture, Bookman. This continuously evolving venture is aimed at eradicating the social evil of illiteracy at the grass root level and bringing a drastic change in the traditional concept of library. For people who do not find time to visit the library, or restrain from going to the library because of traffic and parking issues, the library Bookman comes to their doorstep just like a postman comes to deliver letters. For people who find late fee is an issue for the library-goers, Bookman charges a consolidated fee for some books people take over a period of time. This library would include types of books that you want to read in their stock and is a 3-in-1 facility provider for those who are interested in music and movies apart from books.
Bookman is a business model not only about making books accessible to one and all, especially the disadvantaged children. It is also about the reading experiences, habits and the understanding that reading is necessary for growth and development of an individual and the nation as a whole. There is a whole range of books from reference books, encyclopedias, infotainment to books for toddlers, children and teens, popular fiction, self-help, management books, classics, how-to books, business, autobiographies, politics and recipe books, et al.
Just two years since the inception of Bookman in Ahmedabad, Nilambari has found that there is no trend that people follow here when it comes to reading. From Chetan Bhagat to J.K. Rowling to Richard Dawkins to Fifty Shades of Grey series, people love to read books belonging to different genres. While Indian contemporary authors are all-time favourites, books by Jeffrey Archer, John Grisham and Sidney Sheldon are commonly read in Ahmedabad. Well, I think that has come to be the trend everywhere in India.
Age seemed to be a barrier for Nilambari as when she started off with a new concept of Bookman at the age of 20, people were not convinced that this venture can actually sell this well and by this young a woman, with more than 450 members, a dedicated team of 600 members and a profit of a million in the first year itself. Her journey so far, she believes has been too beautiful to be described in words and phenomenal both in terms of experience and success.
The young entrepreneur who started with absolutely no experience at handling business has now created a breakthrough in reading experiences and the sad education scenario of India. This unconventional business mode not only provides its customers with a wide array of knowledge and information but also offers them techniques to apply it to their real lives, yet it does not ask for funding and is a self-reliant organization.
Bookman that had started with a vague idea is now about to open a second branch in Ahmedabad, along with expanding its database for books and movies, planning for opening many more libraries both for urban readers and the underprivileged and holding tie-ups with prominent schools like Riverside School and organize some joint projects. The lady in question, Nilambari believes that competency is not subjected to gender and though there are many roadblocks especially for women entrepreneurs, they should have clear objectives in life and express themselves, instead of doubting and limiting themselves. "You are an entrepreneur, a businessperson, who does what is right for them. Ignore naysayers and remember, as you conduct yourself, present yourself to the world, so will the world conduct itself towards you." (As reported to the roughpolish.com)
So go and buy yourself a reading experience that will be life-changing!