Qupid by Qaiser Malik is an app for Indian couples or rather a private online space where both can share their most personal thoughts and give expressions to their life plans together without having anyone else to interrupt.
The online world has changed much with job interviews to dating online.
But, how about if you come to know that you can have an exactly similar online relationship as you can offline?
Sharing moments, planning dates and searching for places to meet with your partner is now possible online.
You can even break-up with your partner online and move on to someone you like.
This has all been made possible with Qupid, an app for Indian couples or rather a private online space where both can share their most personal thoughts and give expressions to their life plans together without having anyone else to interrupt. The conversation between the couple can only be accessed by either of the partners.
Qupid is an initiative by a 19-year-old student, Qaiser Malik who had earlier gained a first-hand experience of a start-up business in the Indian market with a Lucknow-based company called Pixter, a social networking app that he created along with few friends.
Pixter could not come up to the level Qupid has reached and we will tell you why and how.
Qupid allows you to send Sensations that couples almost always feel in love. Sensations when they feel like kissing each other or just smiling at the thought of their partner. When you feel such sensations you can also send such sensations or virtual kisses and love buzzes to your partner to let him/her know your thoughts about them at the present moment and thus make their day.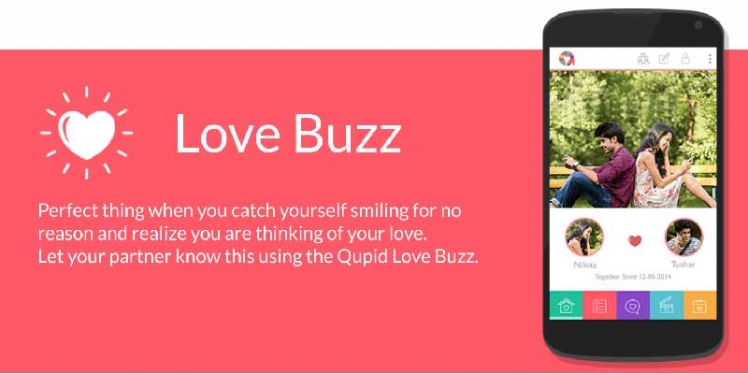 If you want to share something personal about your partner, or set up particular reminders, you can even do that as well through this app by just writing and sharing feeds about your loving partner and personal reminders that you can save as personalized notes for specific dates in your relationship or those special days/occasions you intend to celebrate.
When monotony creeps in your marital life or even in a committed relationship that has been ongoing for years, you can make Notes for your anniversaries, birthdays and plans of coffee dates, movie outings or shopping and late night dinner adventures. Date Planner and Notes would help you achieve this and plan things for your life together. Sharing pictures and texting feeds can also help make the moment get captured in Qupid Memory Lane for later reviewing. You also come to know when the text is read, just like the new blue ticks facility in Whatsapp. Making certain conversations, images and secrets exclusive for a couple and keeping a common timeline personal between both partners is all what Qupid provides for.
Qaiser got his technical know-how team in Nikhil who owns Trendsetterz IT Services and guided and mentored the former on how to enhance services of the app and also invested in its development.
This app also provides a list of all nearby places such as coffee shops, shopping stores, malls, parks, restaurants, et al for couples can save time as well as prove convenient. If one partner is able to find a good nearby restaurant, s/he can send the info to his/her partner through the app and both can then meet up in the restaurant, without having to ask for a nearby restaurant from a friend and call your partner separately to that place. It can all be possible on a single platform.
Couples also have the freedom to break-up here and move on to the next relationship provided both the partners have broken up with each other, they can connect to another person here. There is a high level of security involved as an account operates and connects with a single phone number. You can also erase all data in Qupid app by deleting your account and maintain privacy and security for your personal files by keeping an in-built app lock.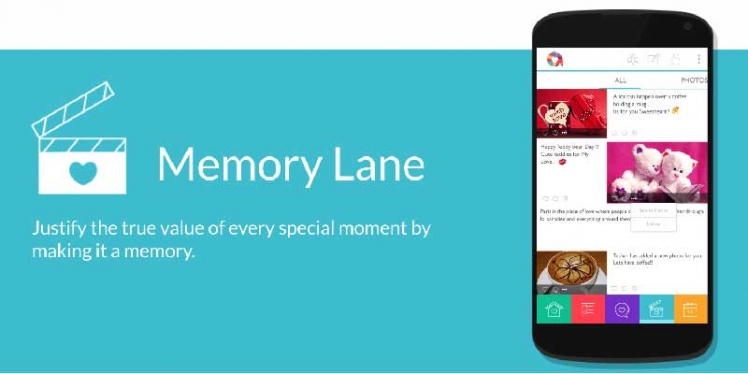 Launched in October 2014 in India, this app is doing well both for Indian as well as international users where according to Qaiser, Sensations, Date Planners and Love Buzz is quite popular among the youth. With more than 1000 users in such a short span of time, Qaiser claims that "more than 75 percent of the traffic on the app is generated via Indians while the rest comes form other parts of the world."
The first version of the app has been made available on Android but its iOS version is still to come up and increasing use by the youth through e-commerce ventures is something Qaiser is targeting at for the future.
The app is a success now and with technological advances and internet buzz all around the youth, most young people own smartphones now and find it easy to chat, share pictures, comments and even laughs online. However, some may still find the offline experience much more real or may even opine that virtual kisses, online memory lanes and exclusive secrets can make you long for and want your partner by your side and not over the other end of the app service. Breaking up online might also be not so favoured by some people while others may find it easier and hassle-free.
Qupid, on the other hand, as Qaiser claims started with the aim of "bringing the real life experience into a virtual space where people can communicate and behave with their better half just like they do in real life", with a personal space for Indian couples without "multiple users and distractions."
So, while the services of this app and its usage is subject to your judgement and opinion, would you send Sensations and plan dates with Date Planner on Qupid this Valentine's?