Which Bollywoo actress looks smashing in a jumpsuit? WE give you the lowdown.
Bollywood beauties in jumpsuits
Not everybody can carry off a jumpsuit as it can either accentuate your assets or make you look a potato. It's a tough outfit to flaunt, but if you get it right, you can make quite a style statement. Jumpsuits in monotones can hide your flab, while printed ones are perfect for brunches and Sunday afternoon get-togethers. So, which Bollywood actress rocks this look? We find out.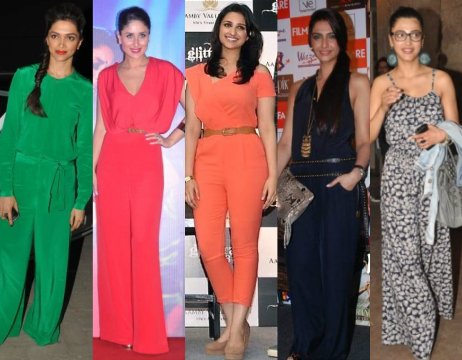 Deepika Padukone:
Can any outfit NOT look good on this leggy lass? She somehow makes every dress her own. She has the height, the sex appeal, and grace to carry off anything, including a jumpie in a solid monotone. From white to blue to printed, she has worn them all and rocked in each number. But the one jumpie that's made us go green with envy is a grass green Rachel Roy jumpsuit that she had worn for an event at Mehboob studios. Side-swept plait and red lips finished out her look. Boy, did she look hot!
Jump-O-Meter: 10/10
Kareena Kapoor:
With a complexion like that, the red Ungaro jumpsuit looks absolutely smashing on her. She lets the bold colour do all the talking as she keeps her entire look very simple. Tied-up hair, gold cuff and sandals round off her sexy avatar.
Jump-O-Meter: 7/10
Parineeti Chopra:
She is slowly catching up with her stylish cousin and we love this shade of peach on her. In a cropped jumpie with styled hair and zero accessories, she looks good. Wish she had picked a better pair of shoes though. It kind of undoes her whole look.
Jump-O-Meter: 7/10
Sonam Kapoor:
The original fashionista of Bollywood wears her dark jumpsuit with an interesting owl pendant. She looks great, no doubt. But we have come to expect so much from her that this simple look doesn't do justice to her flair for fashion. Is it only us or you're not feeling this look either?
Jump-O-Meter: 8/10
Shruti Haasan:
In a printed Monsoon jumpsuit, singer-actress Shruti Haasan looks like a perfect diva as she attends one of her movie screenings. With her quirky accessories, she makes the printed look do all the talking. We love the basic knot and her pair of glasses. Way to go, Ms. Haasan.
Jump-O-Meter: 9/10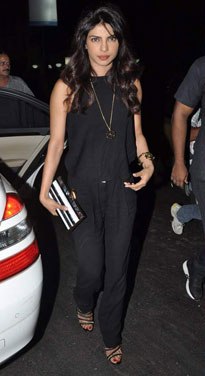 Priyanka Chopra:
The former beauty queen sure knows what flatters her body type. She was spotted having brunch in a black A.L.C. jumpie that we would kill to lay our hands on. If only she had styled her hair differently, we would have given her full marks for this stunning appearance.
Jump-O-Meter: 8/10