Unlike other shades of green, emerald works for all skin tones'¦
Vivid emerald has been declared as the Pantone Colour of the Year and we are quite excited to tell you how best you can wear it. And you really don't have to fret over using it and thinking it will be a disaster. Unlike other darker and lighter shades of green which may look best on a fair to medium skin tone, emerald works for all. Follow our guide and atleast give it a try…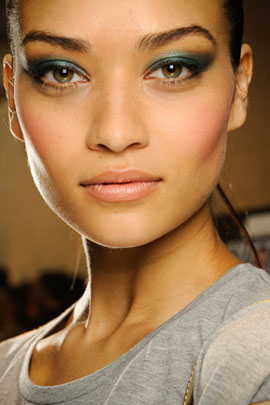 Eyes: Emerald will work best as a shadow with smoky eyes since it's not as loud and harsh as black, and acts like a neutral shade. Try it out during this festive season and pair or contrast it with your ensemble. You can also give an emerald liner a shot and it won't be too difficult to pull off. If you are a beginner or don't wish to experiment too much with your makeup, pair a darker shade of green with a neutral eye shadow.
Lashes: Give your black mascara a break and swish your lashes with just one coat of an emerald mascara to give it a slight tinge of green. Look for a liner from a good brand which will also condition and volumise your lashes.

Nails: Almost any skin tone can pull off emerald green nails with ease. If you have a darker skin colour, go for a paler shade of emerald and if your skin tone is lighter, go for a darker shade. The ones with a wheatish complexion can try out a creamy forest colour.