Hot-off-the-runway hairstyles that will add a touch of playfulness and glamour…
We give you a lowdown on hot-off-the-runway hairstyles that will add a touch of playfulness and glamour to your persona when you go out to party this navratri.
The Undone Hair Look
We are quite head over heels about Deepika Padukone's undone hair look that she has been donning since Cocktail and now, with the recent launch of Ramleela's trailer, we see that the hazelnut beauty is sizzling in messy hairdos, paired with ghagra and choli. This is our favourite trend of the season.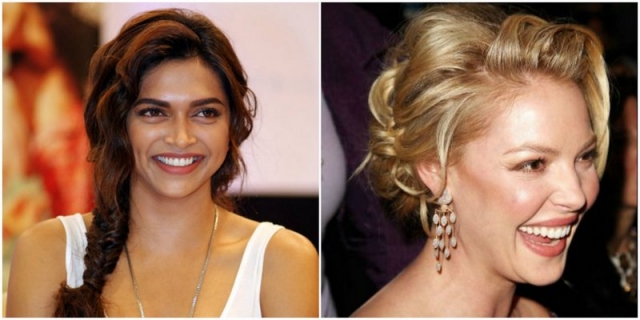 Messy side braid and bun: Wash your hair thoroughly and put a volumising conditioner. Dry it upside down to get more volume. Run your fingers through the strands and crunch often to give them a wavy texture, if you have straight hair. Deep part your hair and gather on one side. Stake a few strands out and tie a plait, or fish tail with the rest. Once the plait is done, hold its tip and push upwards. Using your fingers loosen the knots. Run your fingers through your hair and crunch a bit to make it look messier.
For the bun, gather hair on one side and pull into a ponytail. Back comb your hair, taking small sections to add volume. Bunch each piece that you have back combed and pin up nicely, and continue until you have a bun.
Chignon: Wash and blow-dry your hair backwards to create volume, while crunching with your fingers to make them slightly wavy. Go for a slightly dramatic side-parting then usual and keep it atleast a bit off-centre. Pull your hair into a low pony on the opposite side of the part and secure with a band. Massage your scalp gently with your fingers to add more volume and effortless looseness. If you have fine or thin hair, use a brush to tease them a bit. Loosely wrap the pony around itself to form a more horizontal bun, rather than the conventional round shape and let a few strands come out and fall carelessly.
The Vintage Appeal
Some of our lesser-known style divas like Dia Mirza, Esha Gupta and Sophie Chaudhary have been nailing the look down to perfection quite often, apart from our noted fashion goddesses like Kangana Ranaut, Priyanka Chopra and Kareena Kapoor. We quite like the look and feel that it adds an unparalleled classiness to any outfit.
Vintage updo: Brush your hair well to get rid of tangles and tie it in a pony, settling all bumps, and let those wispy strands fall out. Loosen your pony a bit and dig your finger in the centre of it, just above the band to create a hole. Divide the pony into two halves and pull each loosely through the hole. Pin the ends upwards, towards the base of the pony and use a hairspray to make it a bit stiff. Add a small bow to the bun and curl up those wispy ends.
Quiff: Separate a section of your hair from the forehead back as far as the crown and rough dry using a dryer, while lifting up the roots as much as possible. Start backcombing from the tips to the roots. Take a brush and smooth over the top, leaving you with a voluminous quiff. Style the rest of the hair as you desire, whether in a pony, bun or just wavy tresses. Finish with a hairspray to hold it in place.
Side Swept Curls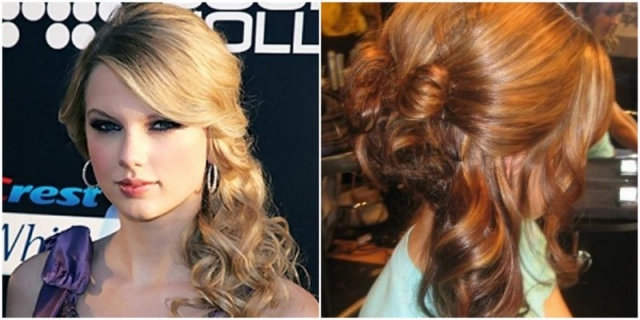 This has been a hit with Hollywood hotties and is one of the easiest to make and pull off. Take small sections of your hair and curl those using tongs. Pin each section for around 10 minutes and allow to cool. Curl each section tightly and in different directions to avoid giving an illusion of one big curl, which happens when all are curled in the same direction. It will also give a natural look. Once your hair is dried properly, remove the pins and brush gently to loosen up the curls a bit until they start resembling bigger waves. Gather on the opposite side of your part and you are good to go. You can also put a pin just below your ear to hold it in one place.
Tags: latest hairstyles, festive hairstyles, messy side braid, messy side bun, chignon, navratri hairstyles, vintage updo, quiff, side swept curls