Bollywood myths on break-ups – Here is what these movies have taught us (myths) about relationships and break-ups that has probably made dealing with break-ups even harder.
Break-ups aren't easy.
Agreed.
But, it is even more difficult to come to terms with the lessons Bollywood has taught us about dealing with break-ups.
Here are a few movie myths:
1). Follow your ex to the city/country he/she is pursuing further studies or working. (Break Ke Baad) He/she will eventually miss your interference in their lives and will come back to you.
If you persist with keeping a track of where your ex lives and works and following him/her there, you will never be able to handle your break-up and start life afresh.
2.) Leave him right in the middle of everything to run to a new city and new life. You may happen to run into him at some summer camp amid innocent children, just when you are engaged to a rich, handsome man living abroad. (Kuch Kuch Hota Hai).
Well, the truth is that even if you get that lucky, your fiancée will not leave your side to get you hitched to your first love. Deal with it.
3.) Find someone else to get over your ex. You may even go and stand at the bridge to come across him/her who is there to commit suicide. You might end up falling in love with the person while you both decide to travel the world before you die. (Anjaana Anjaani)
Rebound relationships can be of no help and you need to give yourself some time to heal. Until you are completely over your feelings for your ex, you cannot feel the same for someone else.
4.) Help your ex to find love in his/her friend of the opposite sex. You only need 6 days to make your friend your lover. (Kal Ho Naa Ho)
While it is shown to be therapeutic to sacrifice your love for your partner's happiness, it does not heal your broken heart.
5.) Move on with your life and you may come across your long-awaited love when you are older and more matured and guess where? None other than your common friend's wedding. (Yeh Jawaani Hai Deewani)
If you are more matured and older, you may already have found someone else or your parents may tie your knot with someone. You may actually end up at your friend's wedding with your fiancée or husband.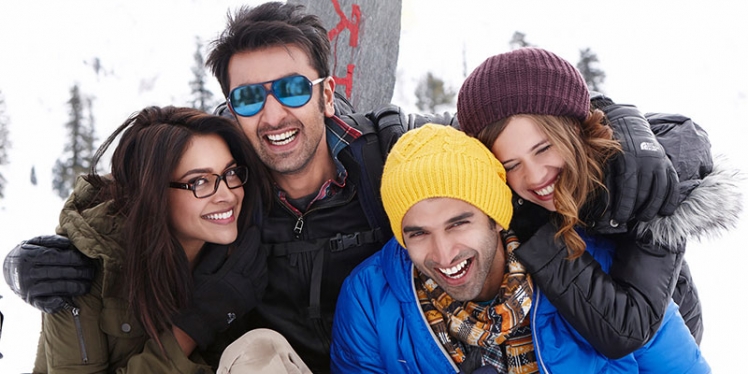 6.) Continue living with him under the same roof and fight for your rights to live in the house that you have built with your life's savings. (Salaam Namaste)
You can only hope that things will again go back to normal and you can cordially live in the same apartment with him, even though you were in a relationship with him once.
7.) Men do not have emotions. (Paa)
It is easily assumed that for men, it is not a big deal to move out of a relationship whenever they decide to. But, in reality, if the relationship brought some meaning to your lives, it is bound to be painful for both the partners.
8.) Just hop on to the first train leaving all your belongings behind and wait for someone to chatter with you constantly and change your life drastically. (Jab We Met)
As much as you hope, it is very difficult in real life to find people to whom you may show the sign board to STOP and they still keep on irritating you with their non-stop ramblings.
9.) Go on your honeymoon alone anyway. You might be lucky enough to meet a sought-after Italian chef. (Queen)
Well, at first you may not get the chance to go on your honeymoon alone.
10.) Indulging in delicacies will help you heal all your pain. Dive deep and find your ultimate solace in ice-cream tubs, burgers, fried foods et al. (I Hate Luv Storys)
Ice-cream may help you feel better in the tough time you are going through but, it will not help you recover and feel happy about yourself.
11.) You may want to start off on a hunt in foreign countries for look-alikes of your ex (Kaho Naa Pyaar Hai)
The world is not a Kumbh Mela where identical brothers/sisters get separated and you may be able to find a look-alike of your ex living in another part of the world.
12.) Your first love is your last and if it is not requited then you can never love again. You may compensate your life and joys with a new partner but never love him. (Kuch Kuch Hota Hai)
Wrong! Wrong! Wrong! You may get over your feelings for your ex with time and it may even surprise you to see that lovers can again be friends. Time is after all, the best healer.
Talking about your break-up all the time and messaging your friends how wrong a person you have been with will only be thought as intermittent ranting by your friends and they may too decide to leave you. Find better hobbies and not drown yourself in alcohol or make bitching about your ex your passion and way to kill time.
You shared some good moments with your ex but it unfortunately, did not work out. That does not deem the relationship as unreal and prove that he/she did not love you ever. Life is not a Bollywood movie with happy endings. (remember Om Shanti Om?)