Often there are confusion and thoughts that modernism may be a reason to destroy or end traditions. Traditions have been a benchmark for people to explain their existence for millions of years. Therefore traditions help them to celebrate their community and also at the same time maintain their strength and confidence through religious learning and practices. Knowledge was limited years ago which was expressed through the preaches of religious thoughts. Lord Krishna has been the teacher for millions of years, he is believed to be the lord of the Kalyug. Each time there has been the birth of Lord Krishna in one form or the other. Even in modernism the traditional sentiments of Krishna remains valuable. Lord Krishna's tools and preaches have given thoughts and meanings to his followers and believers.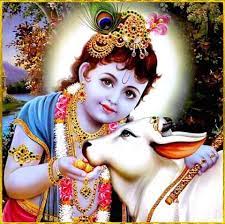 Lord Krishna's tools Remain as means of teaching in Modernism
Lord Krishna's tools are less prone to weapons or symbols of war. He accompanies with himself the beauty of nature that recalls all ages from ancient to modernism. Flute and peacock feather beauty and attraction are not hidden to any of the generations.
Two of the most important symbols flute and peacock feather have influenced modernism. Modern time has adapted to understand the intensity of love and nature. Playing flute in the Tribhanga position indicates the relation of art, music, and nature. Indian art, music, and nature are undoubtedly present at the root of tradition and culture. Any religious events or practices or any cultural event, all are rooted in music, art, and culture.
In modern times there is always an attempt to use music and art forms to express the views or bring any changes to society. The sculptures of Mathura Museum depict states about different life stages of Lord Krishna. It points out the happiness and glory that existed with less spread of violence and hatred.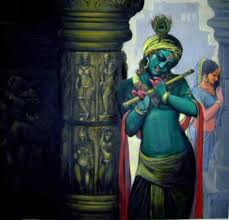 The modern world tries to look forward to using less violence and focusing on the depth of knowledge and nature. His preaching and his tools always focus to promote on better livelihood through intelligence. Krishna sits on a cow which points out his simplicity as a cowboy or shepherd. The cow is one of the holy animals of Hindu for which he is known as Gopal. The life of a minimalist is not related to the strength and power of a person. A simple life-leading person with few needs can rule the whole world. Altogether his three main and simple tools as Lord Krishna promotes love, simplicity, and the need for knowledge in the modern world.
Krishna Wears and Loves Yellow colors
Krishna is known as Shyam for his dark-colored skin. Despite being dark-skinned he was the favorite of all the females in his village Gokula. Dark skin Lord Krishna loves yellow color, mostly he is seen to wear yellow dhoti.
Despite being dark shaded Lord Krishna was the heartthrob of many which indicates that looks do not matter over intelligence and kindness. Krishna's tools are simple but the most influential to modernism.