City of deads – World if full of mysteries from past to present and to future world has many unsolved mysteries, and scientist are working to solve these mysteries for decades now. Recently came into light a village where no one returns once you go there and it's popularly called as "City of Dead".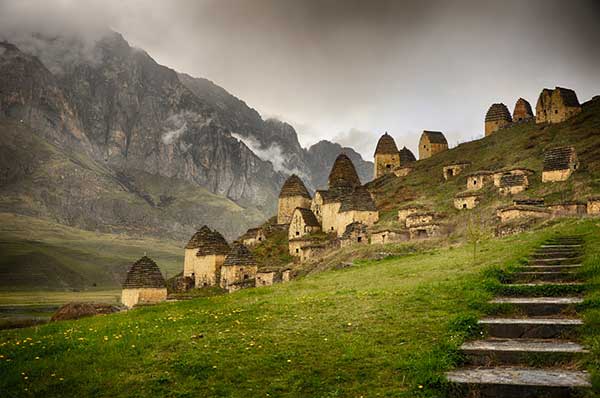 So, here we unveil many secrets of this City of deads shhh!
This village is in Dargavs a village in Russia, here only dead people live
This village of dead is fully covered with 5 mountains and there are many abounded huts that are made of stones.
Local people keep dead bodies of their family members in these stone huts.
Village is very beautiful but you can't trust the beauty it's dangerous. No one dares to pay a visit to this place as only dead bodies are kept here.
Strange thing about this "City of Dead" village is it has taller buildings with 3-4 floors and underground also.
Dead bodies are kept in every floor of these buildings so the more number of floors a building has the more number of bodies the building has. This village has approx 99 buildings
Every building is no less than a graveyard. There are dead bodies from 16th century you can imagine why it is called "city of dead".
Local people have many beliefs they believe any person who goes to these buildings they never comes back. This village don't even have any tourists moreover the way to reach this place is pretty dangerous and weather is also not too good.
This is a City of deads – This place is full of mysteries and scientists are researching about this village and their lifestyle, scientist keep visiting this village from all over the world to find out more.