Samsung Galaxy S Tab Review – If you thought that the iPad is the ultimate experience, well here comes Samsung with its stunning features, good battery life, slim design and attractive apps to give a good, tough competition to the Apple iOS.
If money is not an issue for you and you intend to splurge on a quality product, a tablet with a big screen, lucid and life-like colours and a great battery life, then Samsung Galaxy Tab S is the best buy for you!
The flagship product of 2014 by Samsung is available in two sizes, viz. 8.4 inch and 10.5 inch sizes and comes with a high resolution of 2,560 X 1,600 pixels on a Super AMOLED screen, ensuring that you get the best clarity in your pictures and videos.
The sharp and crisp pictures and text on the tab portray a great display as the high definition photos and really small letters can also be seen in a magnified and greater quality.
The battery life, with continuous usage, lasts about 12 hours. So now you can play those Asphalt and other fast-paced games without much worries about when the battery might get exhausted on your tablet.
Galaxy S tab consists of a rare feature; yes it is a rarity to have a fingerprint reader on tabs as yet.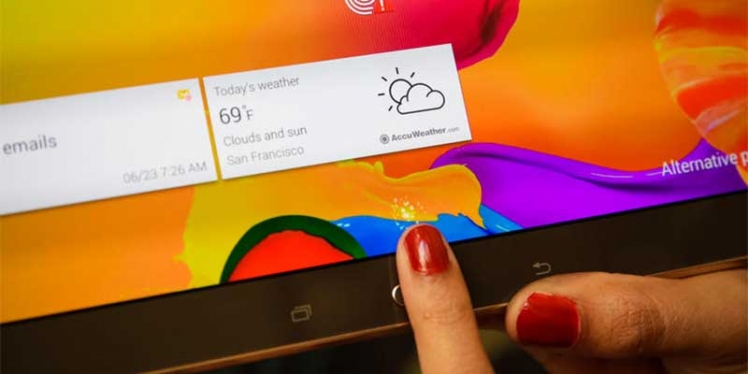 The colour of the phone might be the first thing you notice. The remarkably slim (6.6 mm thick) phone comes in two colours – titanium bronze and sparkling white. The bronze colour is much in tune to Samsung S5 smartphone's golden hues. However, the tablet is much more attractive with a dotted rear surface and a glossy effect to it. The bright metallic tones on its edges around the earpiece and the Home button is a welcome change in the colours that a gadget usually promotes. However, if you find this shade more rich, lustrous and distracting, you can buy the dazzling white-coloured tablet.
The big-screen size tablet has used some of the features from Samsung S5 where there is a physical home button that doubles up as a fingerprint reader and the shiny dotted back panel. The right edge of the tab includes the power button, infrared LED, MicroSIM slot and MicroSD card slot as well, apart from the volume buttons. The upper and lower edges have the stereo speakers, which can be the left and right speakers when the phone is turned horizontal. Lighter than iPad Mini, the Samsung Galaxy tab S is ideal for watching a movie in the landscape or reading e-books in Portrait.
You are sure to get lured by the luxurious looking pictures and highly saturated yet smooth colours on the tab, while the powerful octa-core processor, Samsung Exynos 5420 will woo you with its amazingly swift performance and efficiency as you switch from one app to the other or from one screen to the other. The latest Android 4.4 KitKat software with a 3 GB RAM and 16 GB/32 GB internal memory will ensure that you are able to enjoy the best Android features and click pictures and videos to your heart's content.
The tab supports all the wireless features: Wi-Fi, Bluetooth 4.0, GPS, GLONASS, NFC and 3G connectivity. You can also get a LTE version of the smart gadget, which is also powered by a gyro, an accelerometer for changing modes from portrait to landscape and vice versa, an ambient light sensor, a proximity sensor and of course, a fingerprint sensor.
Apart from several apps like Evernote and Bloomberg Businessweek, Dropbox, Wall Street Journal, The New York Times, Hancom Office Viewer, the WatchOn TV guide, Paper Garden (Samsung's magazine service), SideSync 3.0 and Flipboard that are preloaded, the tab is packed with Google's browser, app store and magazine service, which may cause confusion and clutter for the new Android user or for those using a tablet for the first time but will be efficient for those of you who like to keep their work organized or want to use the tab for business purposes. If you are using a Galaxy phone, the SideSync will provide useful for you as you can exactly mirror the phone's screen on the tab, making it easier for you to use your phone's interface on your tab. Both SideSync and WatchOn cannot be uninstalled, although you can choose to remove extra apps to free your device off the clutter.
The 16:9 aspect ratio not only enables you to view pictures and videos better in both landscape and portrait mode, but is an easy fit-in in your jacket's inside pocket because of its narrow design, narrower than the iPad mini. While a 1.3 GHz quad-core processor ensures that you can efficiently complete your basic tasks, a faster and more powerful 1.9 Ghz quad-core processor enables you to play games at a breack-neck speed. If you are a video game fan and/or own PlayStations, just download spiderman, CSI detective games or racing games and you can enjoy the HD feel while playing the games. The excitement of playing these games will double up with the stunning graphics, music quality and picturesque view of the tab. Since the slate does not use all of its eight cores at once, the battery is less consumed, thus increasing the power efficiency of the gadget. It also depends on whether you use the tab casually or reasonably. However, lowering the screen brightness can help in saving more battery power.
The dual app feature that is accessible with the icon at the left to the home button allows for opening Google Maps and Chrome Browser or your whatsapp messages along with the phonebook and also navigate between apps without the tab getting slow.
The 8-megapixel rear camera will not replace your DSLR but is certainly a good snapper at hand when you want to capture the fun moments of life instantly. The intricate details along with the vivid colours and rich feel would make you swipe through your gallery time and again. However, low-light conditions may bring a lot of background noise and the colour tones might change to something darker and unnatural.
It is easier to fix alarms, read news, update apps and social feeds, mark calendar events, et al, from the Magazine UX interface that is coupled with the home screen. You will not even require a bookmark as once you start reading e-books on your tab, you will find the book opens to the page you last left it, although you can even set bookmarks through the Magazine UX interface.
You can manage your apps through Samsung's File Manager app, My Files at the bottom left corner of all home screens. You can not only get a timeline view of the recent files you have used, but also connect to different servers like those of your PC networks and view the folders there.
With the fingerprint sensor, you can have multiple profiles for family and friends and also have a profile restricted to be viewed only by you. You can also download many other Samsung apps such as video editor, a scrapbook and kids' games, etc. from the Galaxy Essentials ad on the second home screen. Samsung Smart Switch also enables you to share folders with other Android devices and set up a surround sound system with a sound effects app namely Samsung Level. While S Console can be used for gaming, Samsung eMeeting lets you share presentations with other device screens. The Peel Smart Remote App will even let you control your TV settings, the set-top box and other components.
The camera comes with a lot of other functions viz. face detection, stabilisation, timer, voce control, white balance, et al, not to mention the visual effects and beauty shots you can create with this.
Watching movies, reading books and Web pages can be a one-of-a-kind experience here on this tab with the screen being so reflective and vibrant. The speakers ensure good sound quality and less of echoes or muffled voices even when the tab is laid flat.
The slim, light, easy to carry and attractive slate is a premium choice with its immense storage options, colour hues, variety of features and preloaded apps. The price is somewhere between INR 36, 500 to INR 36,900, something comparable to the iPad Mini.
Well, the experience of this Android tablet is also something at par with that of the Apple iOS, if not better!
Good Going Samsung!