You might be shocked but yes this incident happened where a 13 years boy got married to his girl friend of 13 years who was 5 months pregnant at the time of wedding.
Seriously it can't get any weirder than this. Kid probably at this age study, hang around and play but becoming parents seriously shocked me. At this age kids can't even take care of themselves and just imagine they will soon have to take care of baby. Innocence is lost.  This news has sparked lots of controversies and criticism, as video of kids getting married is viral.
According to the Chinese media this newlywed couple lives in Ding'an County of Hainan Province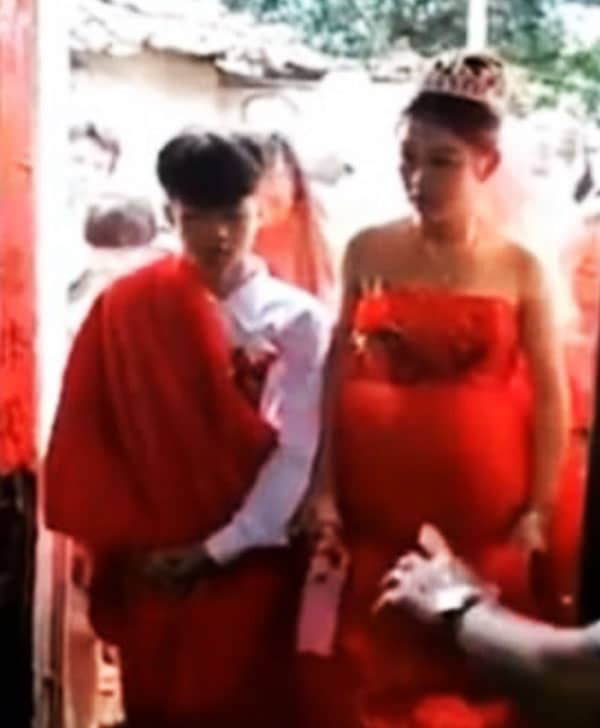 According to an official from Ding'an he said Chinese media the wedding took place month to Beijing news. The officer also stated couples age was 16 and not 13 years. But seriously the guy looks 13-14 years old.
Official also stated that as they are both underage their wedding was not officially registered. Families gathered and planned ceremony to seal union.
You can see in video both the teenagers wore red outfits and followed all Chinese customs and bowed to the in-laws.
Though the family members were happy other criticized and said they are too young to get married.
In china legal age to get married for girl is 20 and for boy is 22, however child marriages is a common scene rural China.
I really wonder will they even become good parents in future and what about their future either of the partners might have to leave studies to raise the kid.
13 years boy got married – Seriously these like these raise a serious question what is wrong with kids these days, innocence is lost. This is not only the case every now and then we keep hearing such weird instances of kids becoming parents at tender age.