The oldest settlements of the Americans are known as the Amish who are concentrated in areas of Holmes County. It is located in the Northeast central part of Ohio. Though there are no specific areas to be pointed to as the Amish country as there are mostly Amish people living in the area is known as their country. It may seem weird but the old Americans or the Amish people of these areas are not ready to accept new technologies or the internet.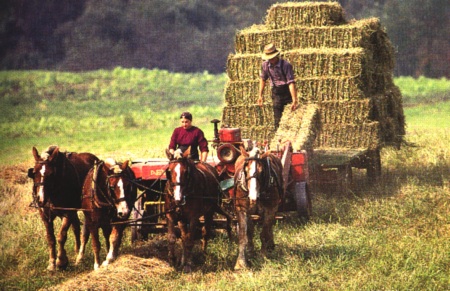 Why do the "Amish Country"  prevent the technologies?
The Amish country people love to live a simple life and they do not want to allow any kind of indulgence of technology. They do use computers but hardly are interested in using the internet or modern technologies. For millions of years of settlements, the Amish people want to survive on the old ways of lifestyles.
One of the reasons that they believe not to use the internet is strange but somewhere true. They believe that the internet will hamper or affect the integrity of their community or families. As time is passing by, their thought of overindulgence of the internet is observed in families. It is when a family sits together but is mostly busy surfing or chatting using the Internet.
Amish people want to use technologies that will help in grooming life instead of introducing negative vibes in their community. 
Amish uses horses and buggy
In modern times when planes and cars are a necessity, the Amish people use horses and buggy. Walking through the streets and outside may feel as if they have time-traveled back to their past. Trains and taxis are available but travel only when it is essential. 
Similarly, they use computers for their official work or requirement but do not have internets or mobiles for regular utility. Homes are strictly kept away from the influences of mobile surfings, games, or any other use. 
Not using all advanced technologies as other parts of the countries does not mean that Amish countries do not accept any new or advanced techs. They always look for the options that will help their community to grow and protect with a proper life balance. 
Does not matter how rich they are? Amish do not own a car. According to them, it gives a feeling of equality ensuring to stay together. But as the computers and internet has shown a bright and hopeful future for their generations. The Amish countries are slowly accepting the advanced technologies of computers. 
All they have explained through their 16th century lifestyle is that the technologies should be accepted that can do good to their businesses and trades. But it should not hamper their society or family life. 
Computers and other technologies are a need for business, trade, and education to a far extent. But excessive use of technology can indeed hamper family life and also affect physical and mental health. 
The Amish people understand and want to stay with their 16th-century requirements and above all do not want to impose on overusing it that can occupy the maximum attention, it may be harmful to them.