Modern approaches to find a date no longer require spending a lot of time in finding one. Looking for the best compatible person for yourself with whom dating can be fun is easy and less demanding. Dating online has made finding like-minded people easy and instantly. Online dating now has become a necessity when there is less time and patience to get one. Hereby, the busy and hi-tech countries are using online sites to find their mates online.
All the technologically strong developed and developing countries are inclined to date online. Countries that are leading in dating online are with the increase of social media users.
To overcome the long scenarios of sadness, ignorance, and denial in dating the technologies have given rise to online sites.
Top countries with top dating sites online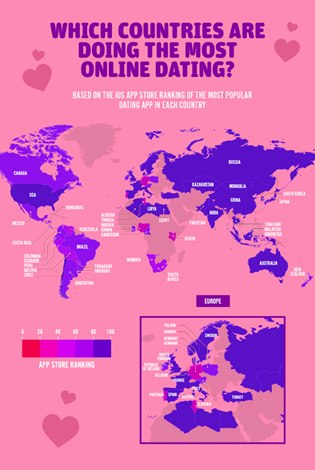 Source: Betway online casino
The United States is the second-ranking country in online dating. The applications have increased the percent of marriages after meeting online. While 40 % ends up in an affair, the interesting part of apps is the communication. Communication does not limit one is to one. A person can approach eleven or more and wait for the responses.
Tinder is the leading app for dating sites in the USA, according to 2020 statistics, the Users are estimated to 66 million. Women using the apps are 28% and males are 72%, maximum age groups range from 18 to 24 years.
The topmost is the country from Europe. The European countries are mostly using Badoo, the online dating application for searching their dates. Badoo, the dating app is highly downloaded by France. Italy and Spain also find Badoo user-friendly. Comparatively US does have the popularity as in France and Spain.
The ratio of users of the Badoo app from male to female is 70% and 30%. Slowly the number of female users is expected to increase in this app. The maximum users' age is between 35 years to 44 years. The features and instant development of a profile have helped in having 500,000 daily users. Users are from Europe are 28.4 million users worldwide monthly as the highest.
Australia is another country with millions of dating online, ranking fourth in dating sites. No drop in the app downloads of Bumble is seen each month since 2020 January. Women have a platform for approaching with the first swipe to find their match. It was launched in 2016 and more than 2 million Aussie users are using it. Globally, Bumble has 48 million using this app daily. One of the best app for women through Bumble online dating app.
Still, the ratio of men to women is seven males to three females. The women users are less despite women dating apps. About 46.2 percent are women in this female online app for dating.
Conclusion:
USA, Spain, Italy, and Australia are the leading countries using online dating apps to find their best match. China is one of the best technologically leading country ranks ninth with their applications. Tinder and Bumble are not at all popular rather they use Tantan and Momo as their dating apps.