Potatoes And Eggs – My first love is eggs.
And my second love is potatoes!
I am sure most of you would agree with me.
So now imagine some yummy dishes that combine both eggs and potatoes.
We present to you four potatoes and eggs recipes that can be relished any time of the day.
Fried Potatoes And Eggs
This one will melt in your mouth and combined with the right sauce it can be a perfect start to the day! Take 2 medium sized potatoes and cut them into small dices. In a pan, take some oil and add salt to it. Now add the diced potatoes and stir. Add water so that the potatoes cook well from inside. Cover them for 5 minutes and keep stir at least twice in between. Cook for another 5 minutes.
Time to add the herbs now. Sprinkle some chopped basil, oregano, parsley and cilantro or dill. In another bowl, beat 3 eggs lightly. Now pour these over the potatoes. Add one thinly sliced onion and mix in the herbs. Add crumbled cheese (you can use any one variety or all of them together) and remove from the low flame. Let it rest for a minute and then attack!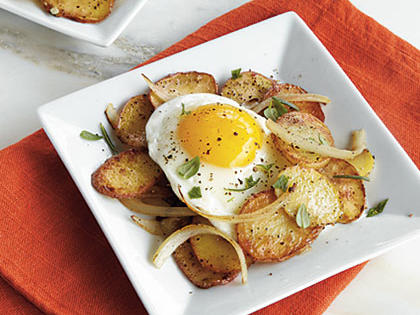 Spicy Potatoes with Scrambled Eggs
For this one, first poke 2 potatoes with a fork and microwave them on high until they are cooked inside. Now peel them and cut into small pieces. Add some oil in a pan and cook 3 scrambled eggs. Add salt and pepper. In another pan, take some butter and add cumin seeds, turmeric powder and coriander powder. Add the potatoes along with some red chilli powder.
Cook for 2 minutes until the potatoes are crisp and set them in a plate along with the scrambled eggs. Eat with a glass of chilled buttermilk for a desi dose of energy!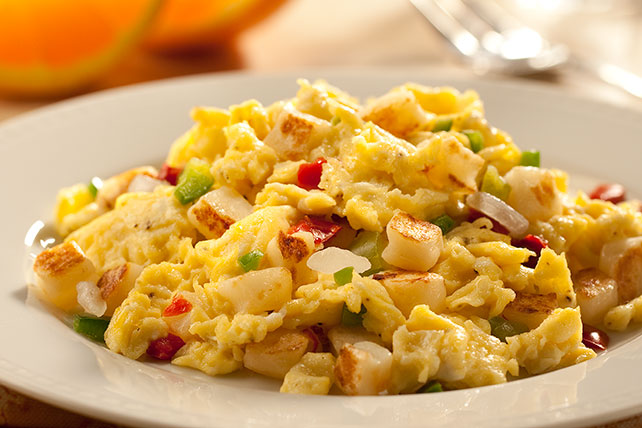 Baked Potato-Eggs
These are perfect for an evening snack. Heat the oven to 400 F. After poking 2 large potatoes with a fork bake them for around 45 minutes. Now cut each into two halves. Scoop out the inside and create space for the filling. Take ¼ cup of grated parmesan cheese and mix it with butter.
Now add the potatoes and break an egg each in the potatoes. Bake for 10-15 minutes and garnish with garlic butter. You can also add your favorite meat or cottage cheese as topping!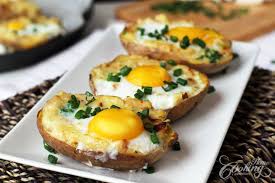 Potato Cake with Chilli Eggs
This is one recipe with a difference. For the cake, first peel and grate 4 potatoes along with 1 onion. Squeeze out all the excess water. Now heat 2 tbsp olive oil in a pan and cook the onions and the potatoes for 5 minutes until they are soft and golden. Fry these for another 10-15 minutes on low flame. Heat the grill to a high and then place the pan below it to cook for 5 minutes.
Using a spoon, make four holes in the mixture and crack 4 eggs in it. Sprinkle salt, pepper and chill flakes or red chillies finely chopped. Cover with a lid and cook for 5 more minutes. Sprinkle some fresh coriander and loads of crusty bread or toast.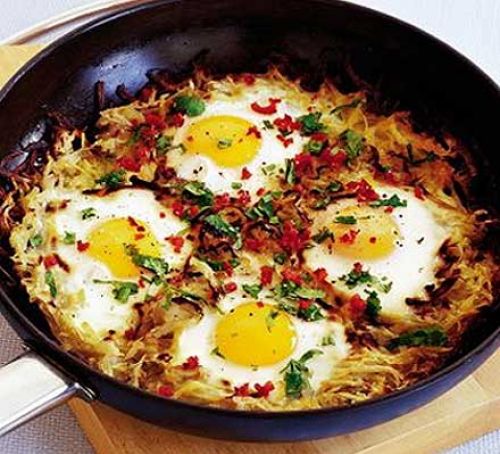 I am sure there many more such awesome recipes with eggs and potatoes. If you come across one, send it right across!