"Sweets And Namkeen With Their Recipes"
The celebration of Diwali festival is entirely incomplete without the sweets.
Since past the time has changed and thus many tend to bring the sweets and Namkeen from outside. Whereas there are many who are keener into preparing the sweets at home. In the midst of this one thing is sure; the adornment of Diwali festival 100% needs a plate full of Diwali special sweets.
Well, if you haven't started with the sweets then worry not because we bring you easy "Sweets And Namkeen With Their Recipes" that will make your Diwali complete.
Sweets And Namkeen With Their Recipes –
Goan Nevri
Nevri is a popular sweet dish from Goa and it is also known as "Karanji".
Ingredients: -2 Cups Flour, ¼ cup of dry coconut, ½ cup of Milk, Poppy seeds 1 cup, Semolina (rawa) 1 cup, 25 grams Sunflower seeds, 25 grams Raisins, 1 ½ cup of powdered sugar, Ghee and ¼ teaspoon of Green cardamom powder.
Method: –
Sieve maida, add rawa and create semi-dough by adding milk and water. Once the dough is ready; cover it up with a cloth and later stuff the roast dry coconut in a kadai until and unless it gives a good aroma.
Do the same with poppy seeds and rawa until they give a good aroma. Later the poppy seeds, rawa, dry coconut, raisins and powdered sugar altogether. Now keep that aside.
Now divide the dough into 20 portions and shape each one of 'em into balls. Now take one-one balls and circle them (Like a small chapatti) and fill the prepared sweet into them by creating a semi-circle & later seal it well.
Heat the ghee in kadai and later deep-fry the Karanjis until they look crispy enough.
Now place 'em onto a paper and allow them to cool. Later store 'em into a airtight container.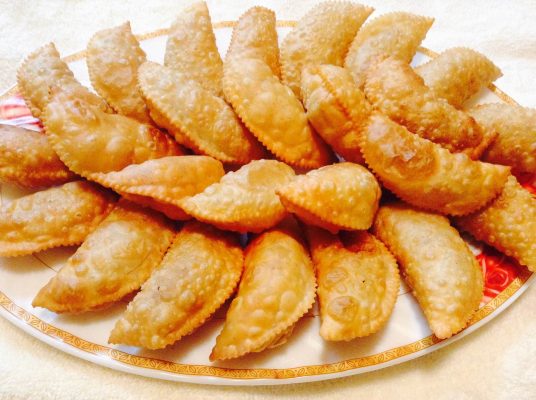 Coconut Til Ladoos
Ladoos are a must in Diwali and therefore coconut til Ladoos are one of the best sweet desserts.
Ingredients: – 1 cup dry coconut, 2 cups white sesame seeds and 1 ½ cup chopped dates.
Methods: –
Roast the sesame seeds into a bowl frying pan for about 2 minutes until they turn color. Later, keep it aside.
Repeat the same with dry coconut and also chop the dates.
Now grind the sesame seeds (not very fine) and later mix the sesame, dry coconut and chopped date altogether.
Once the mixture is ready; roll the small amount of it and form into a Ladoo.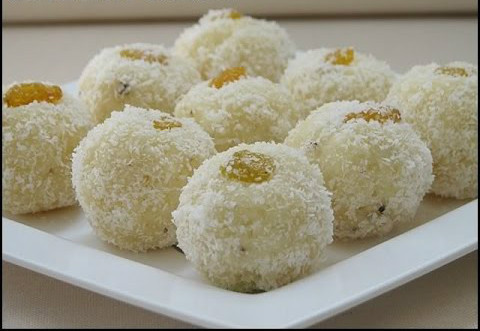 Besan Ladoo
Besan Ladoo is the most-loved Ladoo out of all and is always prepared during Diwali.
Ingredients: – 2 cups Besan, 1 ¼ cup of sugar, Raisins, 5 green elaichi, ¼ cups chopped cashews and ½ cup of ghee.
Method: –
Dry roast the Besan in kadai and keep stirring it for about 12 minutes but keep it on a low heat.
On the other side; melt the ghee.
Now mix the melted ghee in Besan for about 5-6 minutes and keep stirring altogether. Switch it off once it gives a good smell.
Now add the powdered sugar, raisins and cashews as well.
Once the mixture is ready; make small-sized Ladoos and store them in air-tight container.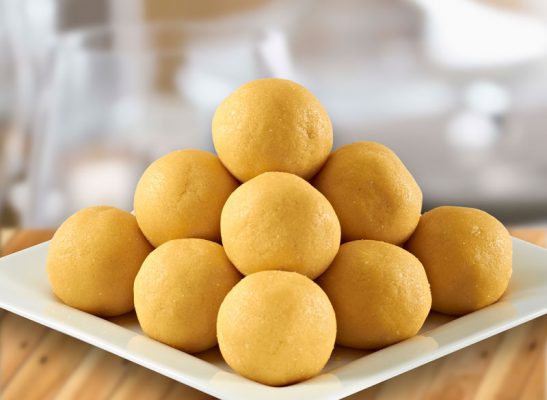 Shankarpali
Shankarpali is a very popular sweet and is prepared during the Diwali festival.
Ingredients: – 3 cups Oil, 300 gm powdered sugar, ½ cup milk, 250 gm rawa, 1 cup dalda, 300 gm flour and salt.
Method: –
Heat the dalda for some time.
Now take flour, add powdered sugar, dalda and rawa and keep rubbing it altogether.
Later add some milk and keep kneading the dough for about 20 minutes max.
For about 15 minutes; keep the dough aside.
Now take big balls out of dough and make their chapatti rolls.
Later, cut it into horizontal and vertical lines (More than inch square)
Now heat the oil and once it is done put the small square shaped Shankarpali into the pan (Low flame) and remove once the color is changed into brownish.
Keep all of them in an airtight conditioner.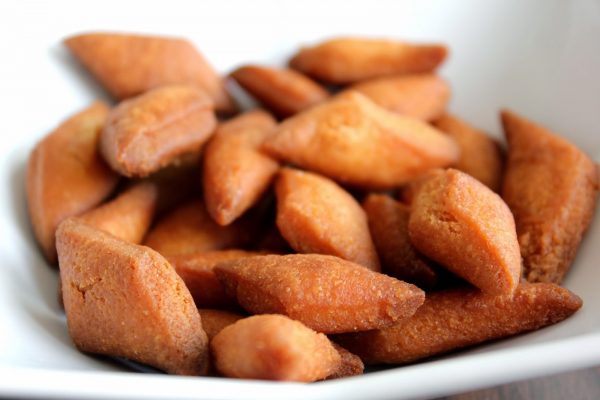 Namkeen Poha Chivda
Poha Chivda is a well-known and also a quick Chivda.
Ingredients: – 3 Cups of Poha, 1 tablespoon oil, powdered sugar 1 cup, ½ cup of turmeric, Mustard seeds ½ teaspoon, 1 Green chillies, Leaves 5-6, 3 teaspoons of peanuts, salt and sliced coconut.
Method: –
Roast the Poha in a medium heat for about 3 minutes. No need to removes them after the color is change.
Now heat the oil and add some mustard seeds and let 'em pop.
Add chillies and curry leaves and saute till the moisture is removed completely and let them turn crispy.
Now add coconut slices and peanuts.
Roast them and keep stirring till they turn brown in color.
Now add turmeric, sugar and salt into it.
Now add the roasted Poha and keep mixing it altogether.
Once the Chivda is prepared; keep it in a airtight container.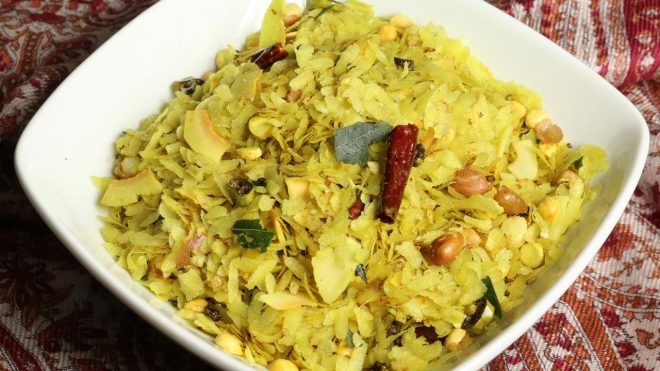 These are the Sweets And Namkeen With Their Recipes – Any queries? Leave a comment below.
Happy Diwali 🙂