Indian elite and travel aficionados shall be introduced to the world of luxury high seas yachting, courtesy Norway's SeaDream Yacht Club, in October.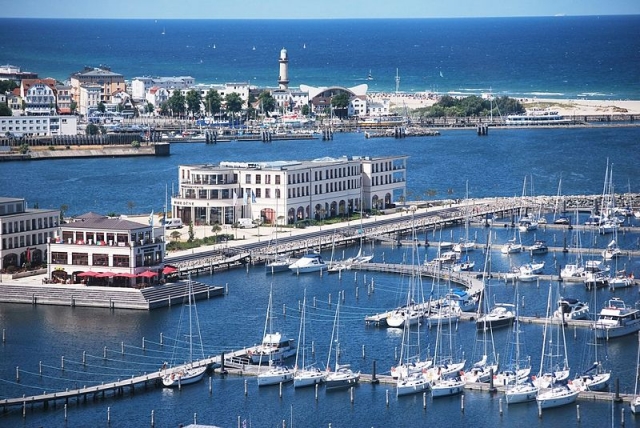 Yacht Harbour Residence, Rostock, Germany
The voyage, christened "Passage to the Far East" will be unveiled in Mumbai Oct 27, before sailing to Goa and Kochi, and then to the Far East. Acclaimed as the world's best, SeaDream will showcase its ultra luxury yachting experiences in the Indian waters for the first time, with 18 unique voyages lasting between seven days and a fortnight, in the Far Eastern region.
It is being said that with the cruise season just setting, Indians now have the option of sailing the Asian waters to explore the culture in Sea Dream yachts, which will sail to Sri Lanka, Thailand, Malaysia, Singapore, Indonesia, New Guinea, Hong Kong and North Australia.
The voyage will pack in teak decks, luxurious seating and lounging areas with ample room to relax or stroll as the world goes by, pampering service by an international crew of 95, coupled with home comforts.
The concept has already started receiving an overwhelming response from the Indian travel fraternity in Mumbai, New Delhi, Bangalore and Hyderabad, besides prospective honeymooners and family vacationers.
Gitanjali Balani, who is India representative of the SeaDream Yacht Club, said that the strategic alliances have been arrived with luxury brands and brand inductions for the travel trade, wedding and events planners to make it a memorable experience for guests.
Founded by Norwegian entrepreneur Atle Brynestad in 200, the SeaDream Yacht Club operates twin ultra-luxury mega yachts, SeaDream I and SeaDream II, with five-20 night sailings in the Caribbean, the Mediterranean, the Black Sea and the Amazon river in South America.
The yachts are suited for discerning travelers seeking an unstructured and casual holiday experience, as well as groups and full yacht charters for meetings, incentives and individual private family gatherings with the mantra: "It's yachting, not cruising."
– IANS