India the land of culture and hospitality never charges guests for food when invited home. It is a part of courtesy that they are served food and drinks with happy faces expecting nothing in return. According to the sacred religious Hindu Book states about feeding guests are a duty and a deed of virtue. As it says "Atithi Devo Bhava", which means "Guests are God". Not only for those who are invited as guests for a meal but also for relatives and friends who may not be invited have suddenly arrived at home. Indians do not charge friends for food.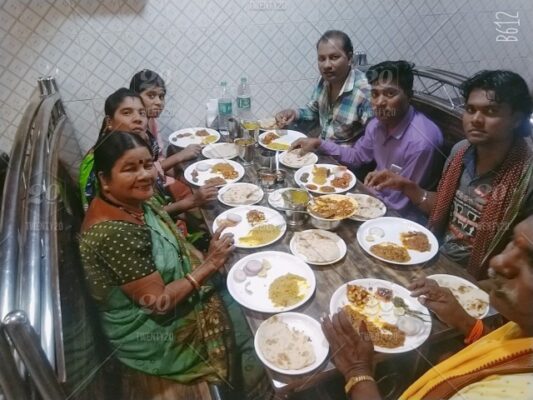 Never Charge Guests or Friends For Food In India
If guests are invited for a weekend lunch or for dinner, it is a pleasure to serve them food and drinks made at home. The reason can be any but after having a nice discussion in the evening and having food the guest leaves the house with happy gestures. Friends may arrive with a bouquet or a small gift at your place. While some may just come without any gifts for their friends, it is fine if someone comes with any gift for the host.
With the belief of the statements in the Upanishads, the hosts require to arrange the dishes and drinks without any second thoughts of any return gifts. The satisfactory time spent together on discussions and eating together over chats of laughter gives a blooming experience to the hosts and the guests. When in India, it is against the hospitality rule, so never charge for food.
Guests may arrive any time of the week, So be ready
It doesn't matter if you are working or being at home. The guests may arrive anytime at your doorstep without any prior information. Due to their busy schedules, they may give you a call and simply mention your expected time to be at home. Indians find it rude to say no to their guests when they want to visit even in the early morning or at 12 am at night.
Maybe it is one of the reasons that the rice cooker is never cleared off on the same day. There is a trend that the cooker should always have some rice in it. Perhaps, if anyone comes then it will be enough to serve a meal even at the midnight. Indian kitchens always have some extra food and drinks. As they are also not aware when there may be a guest at home without invitation. The guest may or may not pay back with any gift or pay back a part of hospitality as "Atithi Devo Bhava".
In the same way, friends can be at your doorstep, and may or may not provide any prior information, you cannot charge friends for food. When they are at your home, it can be a plate of rice or a cup of tea never expects any return gifts from them. It is the time they spend together, hoping to have the feeling of closeness that cannot be weighed with money materials.