Bollywood Memes – Not too long ago, the Babuji memes of Aloknath turned the house down and received innumerable shares and likes in Social Media.
Twiterrati has no respite from trolling people because humour is the only refuge from mundane miseries and making Bollywood movies and the actors the butt of all jokes is a common scenario. Sometimes they also take is sportingly which is the best part of our celebs. Then there are everyday situations that are relatable to some Bollywood scenes and expression of the actors.
We will give you some of such thigh-slappingly hilarious memes here that your weekday will be eased up!
Bollywood Memes –
1 – The Butter Chicken lover:
Every North Indian swears by Butter Chicken and by virtue of that, the roadside Dhabas make a killing. Who would forgo a chance to have an elbow-dipping treat with butter chicken and Paratha? And this is the exact same expression you will receive from an Indian when there is a mention of Butter Chicken.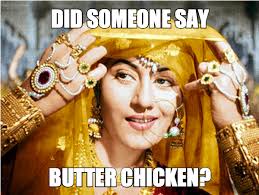 2 – No boyfriends please!
Moms are danger sirens, they won't like any lollygagger looming around you but you have already invigorated his stalker syndrome by replying to his messages and there's no way you can dodge past his unsolicited attention now that you are out with your mom. Your expression is like this, then.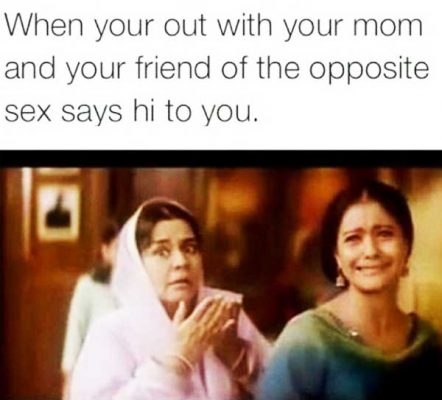 3 – Aunty mat kaho naa!
Well aunties are real pain in the wrong place unless they are unmarried and adventurous. Family gatherings, for that matter are stages and we are actors where fake smiles thicken the air. Pretending doesn't come easy, it takes months of practise and when you master the skill of pretending to enjoy an aunty's company, you look like this.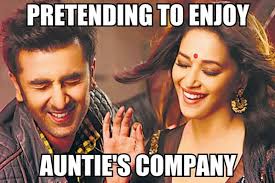 4 – Aloknath ftw!
Whoa! How could we go without mentioning Aloknath even for once? After all, his memes created ripples in social media just a few days ago? and you need to know seriously Alokenath takes Indian road safety rules, he watched Fast and Furious watching seatbelt, now don't ask us what happened when he watched Dhoom, probably wore a helmet too!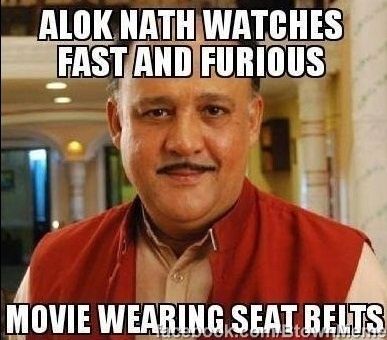 5 – Your treat!
When it comes to giving treats, you declare you are running short of money or there is always crunch at bank balance, but when a friend asks to give you a treat, you leap at it and put your Upvas to rest!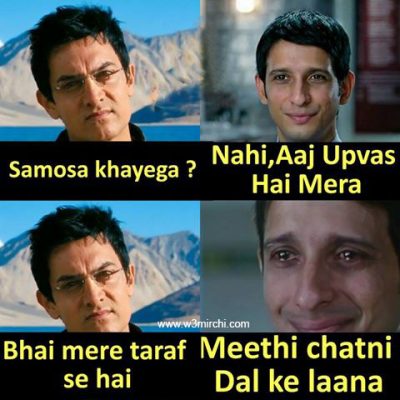 6 – Indian restaurant in abroad:
Indians are bona-fide pretentious people, they will pretend to enjoy the local cuisine abroad but crave for Kadhai Chicken and Sarso ka Saag  at the day end no matter what and when they will see an India restaurant standing tall in abroad, they will become Kajol of DDLJ rushing into SRK's arms.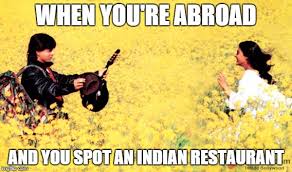 7 – Moms are know-it-alls:
Moms have an invisible sensor which detects the presence of their abroad-settled children around the house. And when that sensor begins to activate, this is how your mom's face appear.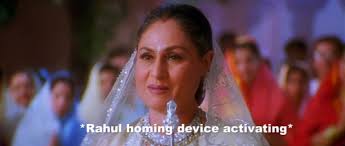 Bollywood Memes – So, we guess we could liven up your weekday a bit by these hilariously relatable Bollywood memes.