Transform your old furniture into new, functional pieces and have fun doing it.
No matter how much we love a certain piece of furniture, there will come a day when it will be viewed nothing but as junk. The difference between junk store dust catcher and collector's item is "makeover". Transform your old furniture into new, functional pieces and have fun doing it.
Do you have an old furniture piece that needs a lift? Sometimes tiny changes can make a big difference. Moreover making over one piece of furniture can give a whole new look and feel to the room. You can breathe new life into any old furniture with some paint and colour. Here is a peek into some DIY tips to your chairs, tables, beds and other antiques. With these simple and affordable ideas, you can transform your ordinary furniture into fresh finds for your home.
Furniture restoration involves tackling any aspect of work that's required to get an old dresser or chair as close to the original condition as possible. Often, it's more than just a facelift — it's making the item usable again and possibly even adding value. Here are some tips that you need to ponder before you make the old new again.
Time to devote: it's important to realize that the 'restoration mission' that you are doing as a small side project will turn into a time consuming chore depending on your skills and free time that you have in your hand. So before you take up the project, be sure that you have enough time to devote.
Research: you are no subject matter expert. So a little research is the need of the time. Research is essential for two purposes. One to determine the true value of the furniture. You don't want yourself caught in a situation where you 'destroy' valuable antique furniture worth some good value. Second, to look at various options available to redo the furniture.
Budget: this is very important. You might love the challenge, but you need to access if it's something that can be repaired inexpensively. Will the project cost you less than buying a new piece? And last but not the least; is it worth your time?
Know what you want: to have a clear picture of what you want your refurbished furniture to look like is very important. Otherwise you will have one plan in mind and by the time it's finished it will turn out to be another junk furniture you don't want in your room. So be clear.
Keep a How-To Guide and tool set handy: if you are a beginner you will need the guide. Also you don't want to run to store in the middle of the work to get some tools. So prepare yourself before you venture. Some of the handy items are:
Wood glue
Wood putty
Oil soap
Measuring tape
Plastic gloves
Respirator
2- to 3-inch (5.08 to 7.62 centimeters) angled paint brush
Toothbrush
Now that your toolbox is full and you're armed with these tips, you're ready to begin restoring your furniture to its former glory.
Here are some ideas for ways you can revamp your furniture: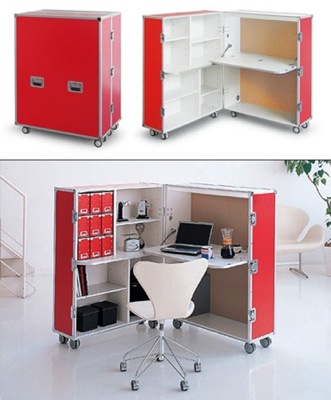 Upholstery: Re-upholstering is a popular way to revamp old chairs, footstools and chaise lounges that already have the padded seating. You can either add new foam, batting and fabric layers onto something like a sturdy coffee table in order to transform and re-purpose it into a stool.
Re-purpose an object or piece of furniture: For instance, you could turn old doors or windows into tables, upholster a wood crate to make a foot stool, or add legs to a metal storage box to make a side table.
Add a new tabletop: Attach new strips/planks of wood, mirror pieces, make a glass tabletop, add mosaic tiles and grout it, or even add a layer of resin and embed items in it – like buttons, glitter, plastic charms, glow-in-the-dark stars or anything you like if it's small and thin enough.
Stencils: You can buy a huge variety of stencil designs, or you can draw your own design and cut it out of contact paper before sticking it onto your furniture and painting over it. This technique is very versatile because any pattern you think of can be achieved.
Re-finish: This is where you re-do the finish that was already present on the furniture, and is mostly a method used on pieces where the wood grain is on show and simply is varnished.
Painting: The most popular way for revamping furniture at home because it's pretty easy to do, and the choice of colours is almost endless so you can match your furniture exactly to your colour scheme.
Wall decals: You can easily apply wall decals or stickers onto furniture for an instant pattern.
Printing: This is a method of printing the same shape onto the furniture over and over – for instance by using a foam stamp and paint.
Adding different hardware: You can add various brackets and metal corner pieces to your furniture, as well as changing the handles/knobs for something more interesting and unique – such as leather handles, or ceramic/handmade/antique knobs.
Extra add-ons: You can cut-out simple shapes from wood to add to your furniture as a raised design, or you can add other uses to your furniture such as extra shelves, built-in lighting, curtains or jewelry storage.
Lining: You could line your furniture, e.g. inside the drawers, with wallpaper/wrapping paper/maps/fabric etc. using decoupage techniques in order to add an interesting design feature.
Note: the inputs are from TLC:How stuff works; The Ecologists, DIYNetwork