Destiny Hope Cyrus, better known as Miley Cyrus is paying a huge cost for fame and she doesn't seem to regret it at all. Seems to love it to the core!
Fame asks for a cost, but this?
Destiny Hope Cyrus, better known as Miley Cyrus is paying a huge cost for fame and she doesn't seem to regret it at all.
Seems to love it to the core!
With her wildest statements going all over the drone, she definitely is the hottest star of today's youth.
The wild performer has evolved enormously during past few years. In a successful effort to expand her fan base, she has been documented doing bizarre things from making appearances on the stage in racy outfits and singing vulgar lyrics. Is this just to create a buzz or there is more to it? This little girl who we saw playing a cute character of Hannah Montana on small screen has turned into a wild monster in just few countable years.
Is she trying to be Britney 2.0?
If we have to go by the records, this official transformation started in the year 2010 with the release of her album "Can't Be Tamed". What an apt title she chose to declare to the world that she isn't the little puppy anymore! Now that the singer is officially an adult, anything and everything she does is legal. Well, is it? Really?
Here is a little peek into her crazy whacky actions that lead to fire and a bigger fan-base every time.
During her one of the G-A-Y nightclub performances, she simulated oral sex on an inflatable penis and pretended to do it on a blow-up doll too.
She showed it to the world!
During one of performances, after she came back from a hospitalization for a bad medication reaction, Cyrus encouraged fans to smoke pot, telling them "weed has never killed anybody."
Do you think Miley crossed a line with it? Well not yet, there's a hoard more to it!
At one point during a stop on her Bangerz Tour, Cyrus addressed the pro-LGBT crowd and tried to bond with them by making a joke about DATE RAPE. Quite a confession there! Read on!
"You know, everyone's a little bit gay… It's the truth," she said rather ceremoniously. "All it takes is one cocktail… And if that doesn't work, sprinkle something in their drink. That's what I always do." Well that appears to be criminal instincts! Sprinkle something in their drink so they can pass out and you can take advantage of them? Are the authorities listening?
Miley Cyrus just can't stop.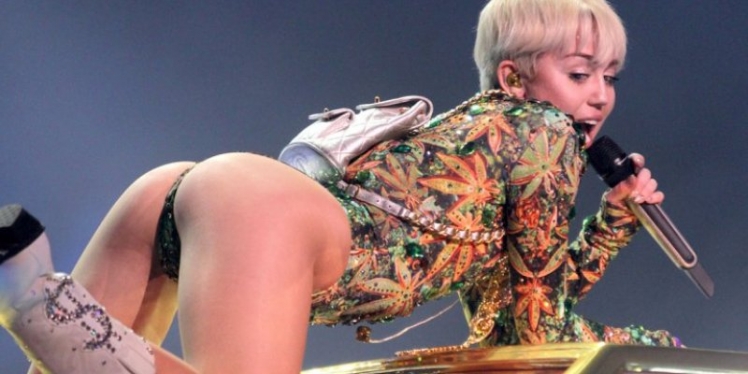 She posted a series of Instagram videos and photos that show her smoking, rapping and just being Dirty Miley. "I drink vodka," she raps directly into the camera while riding in her tour bus. "Turn up!" The wild videos, which were filmed during her tour stop in Finland, continued with Cyrus doing some rather strange dance moves. "F–king turn on the PJ ps no this isn't in FF," she wrote to her more than 10 million followers, and left them wondering what the hell was up?
She went on to taking a long drag on a suspicious looking cigarette right in the camera with flashing lights all-over her party bus and loud music pumping in the background. "wtfishappening" , she captioned the video on Instagram!
The pictures she posted on Instagram were no less grotesque. Some in a cow-boy hat and horrible looking fake teeth where she smiles at the camera giving a thumbs-up, some in weird yellow shirt sticking her signature tongue out and some while sipping a strange yellow drink. She captioned it "aftershowturnup"!
We feel it's our moral duty to let you know that Cyrus's antics began well before this hot after-show party. While performing at Finland Hartwall in Helsinki, at one point she flashed her butt to the audience while bringing a painful expression to her face. Now, was that some kind of implication? A dirty confession of a kind?
All these eccentric things she is doing are leaving us wondering that what the hell is she up to? Are all these wild ways an attempt to distract her from how actually is she feeling? Because the same day she posted the crazy videos and pictures on Instagram, she also resorted to Twitter and wrote, "So f—in' homesick," adding a side note about her late dog, "If it wasn't for the show tonight I would lay in bed and miss Floyd alllll day."
On a personal level, Cyrus began dating an older man; model Justin Gaston, in September of 2008. They broke up in the spring of 2009 and rumors began to spread that she was seeing Nick Jonas again. From there, however, word spread that Miley was involved with The Last Song co-star Liam Hemsworth. The two went public and have since broken up on multiple occasions. Miley announced her engagement to Hemsworth in June 2012!
Well, whatever it all could be, all that we can wish this young lady (she definitely is and can be if all that camouflage is peeled off her isn't it?)
Get well soon Miley, your fans would love you anyways!