Weird Statue Of Ronaldo –
I'm pretty sure that you are very well aware about Ronaldo's weird statue look.
To be honest, Ronaldo's statue looks nothing like Ronaldo.
Like seriously, Cristiano Ronaldo is so damn sexy, and handsome, but his statue is so damn opposite, isn't it?
I mean, I think that the statue must be Ronaldo's biggest nightmare ever.
By the way, if you're wondering who did the disaster, then let me reveal that his name is "Emanuel Santos." When asked about his complete disaster, according to The Guardian, he revealed "It is impossible to please the Greeks and Trojans. Neither did Jesus please everyone."
Weird Statue Of Ronaldo –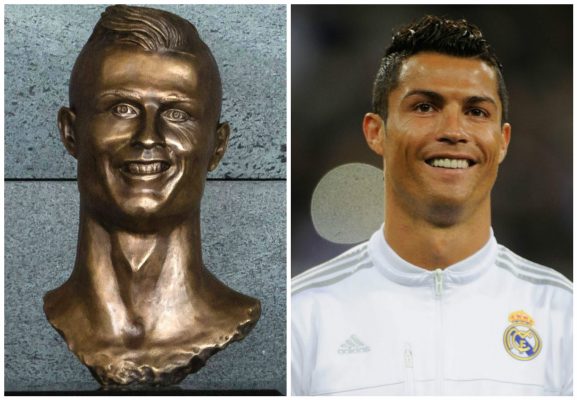 "This is a matter of taste, so it is not as simple as it seems. What matters is the impact that this work generated. There is always the possibility of making a difference; I was prepared for all this. I used as a base some photos of Cristiano Ronaldo that I found on the internet, nothing specific. I put the photos next to me and started working on the bust."
Well, whatever that is, one thing is certainly clear, that the Internet is not in-love with the statue. They are tweeting hilarious things, and trust me; just in case you're having a bad day, these tweets will make you laugh your ass off.
Are you ready to see the disaster and remain unimpressed? Well then, here we go…Take a look at these pictures. (I'm quite sure that the people who hate Cristiano Ronaldo will be undoubtedly happy to see his weird statue)
  Is that the New Ronaldo? Oh yeah, he is. 
Looks pretty lifelike to me. #RonaldoBust #RonaldoStatue #Ronaldo pic.twitter.com/JWuFFrpbLT

— Paul Burton (@PaulTheDesigner) March 31, 2017
2. Hahaha! The truth about pictures.
Me when I'm leaving to go out vs how I look when I show up in a picture #Ronaldo #RonaldoStatue pic.twitter.com/6OCn6ipUEv

— Maxwell Stafford (@McKendryMM12) March 30, 2017
3. No words to describe this!!
https://twitter.com/MagicDevil7/status/847412093565378560
4. All the haters right now will be dragging Messi in this weird situation too.
https://twitter.com/sergipinkman/status/847880232107429892
5. Annabelle 2 Released – Haha!!
Resemblance is uncanny. #RonaldoBust #RonaldoStatue @UNILADFooty pic.twitter.com/P4z0kovUPM

— Matt Sparkes (@Matt_Sparkles) March 31, 2017
6. Okay, so that's actually Ronaldo crying.
@SportsNation ok i can see it now a lil ,,lol @Locs_n_Laughs @marcelluswiley #RonaldoStatue pic.twitter.com/tCY0tKUCcD

— THEREAL⭐G_Kells (@ALL_PRO_G) March 31, 2017
7. Oops! His weird eyes are scary.
https://twitter.com/lazyrebelboy/status/847981493024686080
8. They damaged his whole FACE.
Don't know what all the fuss was about with that @Cristiano bust. It's spot on if you ask us… #football #CR7 #AeroportoCristianoRonaldo pic.twitter.com/RXBa7rLwWr

— TFFFFS (@TFFFFShow) March 31, 2017
9. Have FUN watching this Terror movie.
Trailer for #ItMovie 👹 😂😂#Terror #Movie #TerrorMovie #MovieTerror #It #cristianoronaldo #realmadrid#madrid #españa #cristiano #cr7 #cr7fans pic.twitter.com/qzc1II2kHu

— La Paz, Dijo Colombianito.🕊 🇨🇴 🐝 (@LaPazColombiani) March 29, 2017
What do you have to say about this weird statue of Ronaldo ? Comment below.