From chicken to pasta to fruits to salads, we have them all covered…
From chicken to pasta to fruits to salads, we have them all covered…
Herbed chicken pita with cucumber and grapes: On a whole wheat pita, spread on teaspoon of hummus. Add a few chunks of grilled, skinless chicken breast (nothing more than 14 grams) and sprinkle a pinch of pepper and salt. Stuff in a few slices of cucumber, tomato and onion, and top up with a few fresh mint leaves. Season with extra virgin olive oil, lemon juice and some dried rosemary. Throw in a few seedless grapes and enjoy.
Spaghetti carbonara: In a cold skillet, pour some olive oil and swirl to cover the bottom of it. Add around 50 grams of diced bacon and cook over medium heat until the bacon turns crispy. Remove and on a paper towel lined plate. Add two tablespoons of shallots to the skillet and cook until crispy. Set aside on a plate. Cook a small packet of pasta according to the instructions and throw in a handful of peas, half way through. Once the pasta is cooked, take out around three glasses from the same water and drain the remaining. Pour the pasta onto the skillet and add bacon, peas, shallots and pasta water. Mix in half cup milk and equal amounts of parmesan cheese, and stir well. Once the water is soaked, season with salt, pepper and oregano, and savour.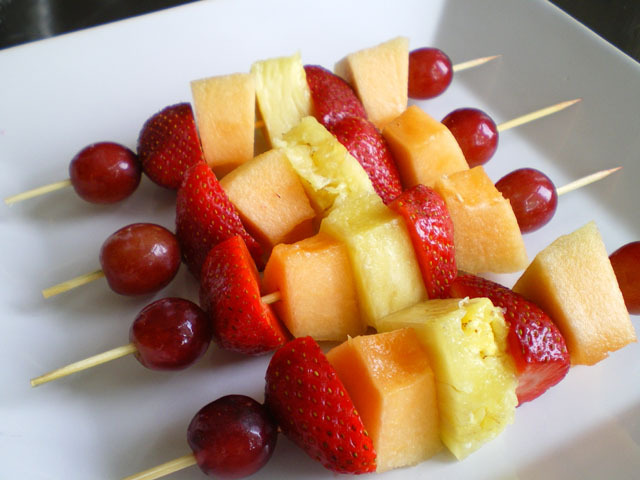 Fruit Kebabs: Thread around 15-20 chunks of pineapple, papayaand strawberry onto skewers, alternate each peace for a more colourful appearance, and eat the goodness out of them. You can also squeeze a lemon and sprinkle some salt and pepper for a tangy edge.
Red onion and pomegranate salad: In a mixing bowl, combine one skinless pomegranate, one finely diced cucumber, one finely diced red onion and 30 grams of green grapes. Add two tablespoons of vinegar, a pinch of salt and pepper and a few strands of mint leaves of cilantro.
Tofu scramble: Heat two tablespoons of extra virgin olive oil in a pan. Add one each chopped onion, capsicum and red bell pepper, and cook until soft. Sprinkle some dried coriander powder and cumin power and mix well. Throw in around 350 grams of tofu, followed by turmeric powder and stir. Add equal amounts of black beans and cook until soft. Season with salt, pepper and cilantro.