While food still remians a rather unexplored territory in Bollywood, we cook up a serving of our favourite food moments from Hindi films that still lure us into watching them…
While food still remians a rather unexplored territory in Bollywood, we cook up a serving of our favourite food moments from Hindi films that still lure us into watching them…
Lunchbox
Saajan Fernandez (Irrfan Khan) is a loner, a desolate man whose life has lost its touch with good smell, good food, good companion and all the other pleasurable things in life which make you happy. Ila (Nimrat Kaur) is a bored housewife, caught in the daily grind of monotonous households chores, who is vying for her husband's attention through her culinary acumen. When the famous dabbawallas of Mumbai mistakenly deliver the lunchbox prepared by Ila for her husband to Saajan, he is pleasantly surprised. He looks at the new, properly cleaned tiffin and touches it to feel if it was real. He opens it and a whiff of delicious meal tantalises him. He takes out all the four compartments, inhales deep breaths from the food, touches the supple, soft chapattis and when he chews down a bite, we see a happily satiated Saajan for the first time in the movie.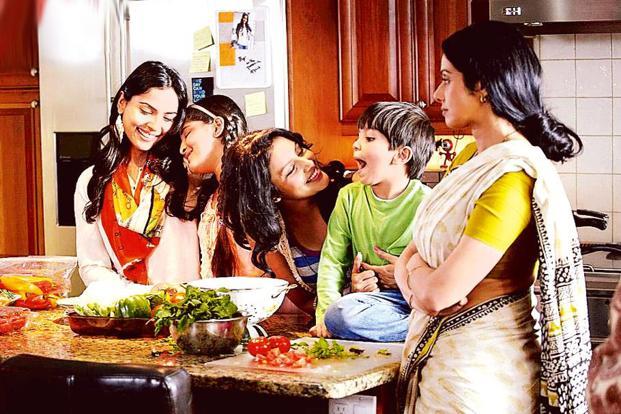 English Vinglish
Shashi Godbole (Sridevi) is the quintessential Indian housewife, who is a gifted cook and is known in her city and family, especially for the scrumptious boondi laddoos she prepares. Due to her incompetence in the English language, she is often a subject of laughter in her family and quietly endures slights from her misogynist husband and ungrateful daughter. She takes it upon herself to learn the language and an opportunity lands her in New York. She enrols for a course in the city and prepares tiffin for her fellows in the class. Whenever they open it and devour a bite, they are smitten by her exceptionally good culinary skills and this only strengthens Shashi's lost confidence in herself.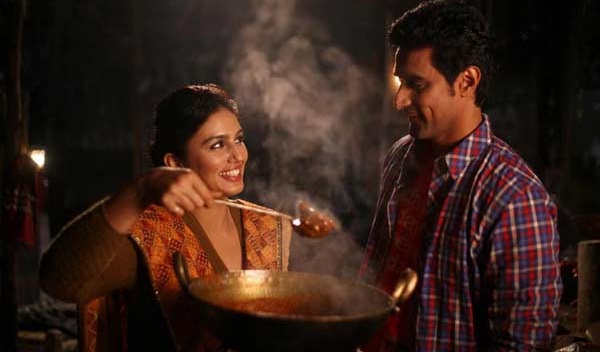 Luv Shuv Tey Chicken Khurana
After fleeing from London and a dangerous UK-based Indian don to which he owns a ransom, Omi Khurana (Kunal Kapoor) comes to his native village in Punjab. Much has changed since he left the place after stealing money from his doting grandfather, Darji, who has turned senile since then and has most importantly, forgotten his hit recipe for Chicken Khurana. Omi tries to reinstate the legacy of his grandfather, Khurana Dhaba to its original glory. This would mean reviving the secret recipe of Chicken Khurana and is helped by his childhood crush Harman (Huma Qureshi). What follows is an engulfing, hilarious series of failed attempts when both of them try to cook up the famous dish, everytime failing to match up to the authentic taste.
Cheeni Kum
Buddhadev Gupta (Amitabh Bachchan) is a 64-year-old, arrogant, pompous man whose only passion is life is cooking. He is the chef and owner of London's most popular Indian restaurant, Spice 6. The egotistical chef doesn't compromise on anything when it comes to taste. The moments where he is agitated by the foreigner staff working in his kitchen for its lack of understanding about authentic Indian dishes, particularly biryani, are an enjoyable journey.
Bawarchi
Made in 1972, Bawarchi was the first Bollywood movie to put a cook in focus. Raghu (Rajesh Khanna) emerges as a cook, almost from the mist to help the collapsing house and relationships in the Sharma family recover their ground. Through his mouth-watering meals and full stomachs he wishes to reunite the squabbling family members. When he first appears, Raghu opens a box with a flourish to show his spoons and ladles that are the tools of his trade like a surgeon showing off his scalpels. He enters the kitchen and all he finds is the boring vegetable suran. He picks up hing and cooks some kebabs out of it which fool the family into thinking it's mutton.