Snack Recipes – There is a term called 'sympathetic sweets' and the weight watchers, as we assume aren't quite unaware of that.
A fitness conscious diva will swear by these healthy sweet options which don't pile up calories in your body and you can eat without guilt trips.
So, whisk off the sweet cravings with these simple recipes that not only quench your 6:00 PM hunger but go easy on the calories too.
Easy and healthy 6:00 PM snack recipes:
1 – Try making the soft and chewy granola bars. For this you will need:
Soaked Pitted Medjool Dates-3/4 cup.
Chia seeds- ½ cup
Raw sunflower seeds- 1/4th cup
Raw pumpkin seeds-1/4th cup
Dried Cranberries- 1/4th cup
Cinammon- 1 Tbsp
Pure Vanilla Extract- 1 tbsp
Fine grain sea salt-1/4th
Rolled Oats- 3/4th Cup
Process: Blend the rolled oats in high speed in a blender, line a 9 inch square pan with parchment paper, preheat the oven up to 177 degress C. Take a bowl and mix everything except for the dates. Blend the soaked dates separately and mix in it. Mix everything and pour in the baking tray, flatten it uniformly with a spatula and bake in 162 degree C for 25 minutes. Let it cool for some time and cut it into desired number of pieces and shapes. ENJOY!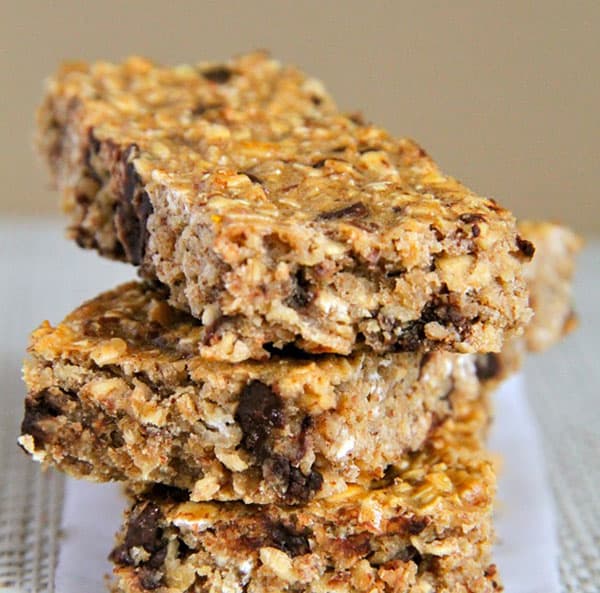 2 – Try making Apple chips.
Preheat the oven to 250 degree C and line two baking sheets with parchment paper. Take a bowl and mix sugar and cinnamon in it, toss the apple slices and make sure both sides of the apple slices are coated with it. Line the apple slices in a single layer inside the baking sheets, put it in the oven and bake until lightly brown and crisp. Transfer it into a plastic bag and let it cool before eating.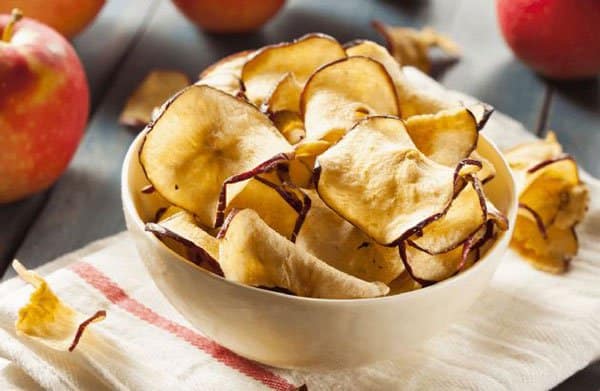 3 – Try making Peanut Butter-Banana bites. You will need:
Peanut butter-1/2 Cup
1 Banana- chopped
Coconut flakes- 2/3rd Cup
Flax seeds ground- 1/4th Cup
Mini chocolate chips- ½ Cup
Monk Fruit in the Raw Sweetener- 1 Tbsp
Process: Mix all the ingredients in a bowl, whisk these together using a fork, make sure all the ingredients are well combined. You can also add oats if you like and if the consistency is too sticky. Keep the bowl in fridge for 30 minutes and after that period make nice dough out of it. Churn out small 1 inch sized balls of the dough, keep in an airtight container in the fridge up to 2 weeks and you are done!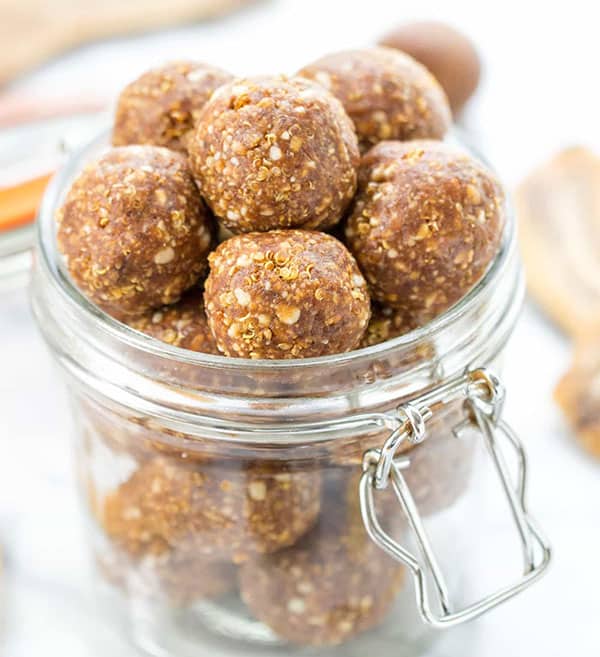 These Snack Recipes are sheer boon for weight watchers so stock up yourself with these healthy snacks and keep treating your sweet cravings to awesomeness.