Dhoom 3 teaser brings instant popularity for Uday Chopra on Twitter
Now that the much-awaited Dhoom 3 teaser is out, (which you can totally check out here), Uday Chopra seems to be the talk of the town. Yes, you read that right. While the teaser shows Aamir in a villainous avatar, people on Twitter have picked on Uday Chopra and his nanosecond appearance in the teaser. Because of which he is trending on no. 1 in Mumbai and India! Don't believe us? Check this out!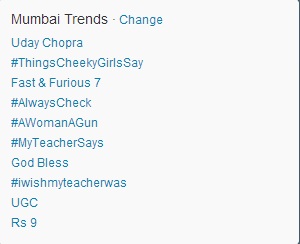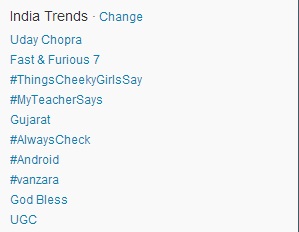 Before you faint out of shock, let us tell you or rather show you why exactly Uday Chopra is trending and what people are talking about him. Personally, I feel bad for the guy as very few times that he comes under spotlight and then has to face this. But on a brighter a note, any publicity is good publicity right?
Okay so here we go top 10 Twitter jokes on Uday Chopra that are doing the rounds:
1.
2.

3.
4.
5.
6.
7.
8.
9.
10.
While I find all of these jokes hilarious I can't help but wonder if this would be amusing Uday Chopra or would he be seething in anger? Anybody would in his place but since he's been the butt of all jokes from the moment he first appeared on screen I am sure this would be just another day for him.
Ah well, let the jesters of Twitter have their fun and take over Twitter for all I care. Btw, do you think Kat looks hot in this first look? Tell us what you think about Dhoom 3 teaser in the comments below!