Love Child Of Aamir Khan – Aamir Khan might be happily married to Kiran Rao with an adorable son now, but how many of you know about Aamir's alleged love child? I know that this might be truly shocking for some of you, but yeah back in 2005; Aamir was stuck in a major controversy.
The controversy literally shocked the entire Bollywood industry.
For those who have no idea about it, let me explain it – Aamir Khan was madly in-love with a writer Jessica Hines.
Yes, Mr. Perfectionist of B-town once dated Jessica, who is best known as the author of a biography on Amitabh Bachchan.
Here's the book –
How nice that there are some folks still enjoying the madness. #amitabhbachchan https://t.co/STVpupZIb2 pic.twitter.com/R4lab3vSO9

— Jessica Hines (@Londonishstyle) April 6, 2017
Back to their lovely days, it is said that Aamir and Jessica fell in-love on the sets of Ghulam. They were in live-in relationship during that time. Hines got pregnant and everything literally changed. Even though they were happy during that time, their happiness took a down fall when Aamir told Hines to abort the child or forego their relationship. Things obviously turned ugly and Hines was shocked too. But, she decided to let go the relationship and she gave birth to a beautiful baby boy.
It first caught media's attention when a story was featured in Stardust Magazine, it claimed that Aamir indeed had a relationship with Hines, and later when things turned ugly, he abandoned his child. During that time, Hines clearly mentioned that she never gave any interview to the Stardust magazine, but yes, she didn't even say that the story was false.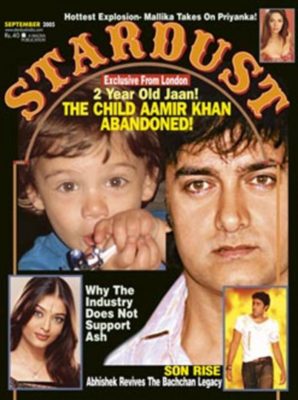 Time has passed, and now she lives with her son and family in London. Even though it's a past, the story is undeniably unforgettable. Back in 2015, it was revealed that Hines and Aamir's alleged son "Jaan" is now a model.
She is a proud mother now.
Jaan was first featured in Vogue UK in 2012 and he even modelled for many brands. Jessica Hines make sure to keep her son away from the media, so there's no such idea about whether he will make a entry in India or not. Hines regularly keeps posting pictures of her son and entire family on her twitter account.
She certainly seems to be in a happy place now.
Thus, the following pictures are not been taken from anywhere else, but I'm putting Jessica's tweets as it is. She has not made the Twitter account private, so it's clear that anyone can see it. Thus, with due respect, I'm not copying each and every picture of Jaan, as the matter is very sensitive. This is something that has been going on since 12 years and no one, not even Aamir and Jessica has stated the story as false. Plus, on a front note, Jaan's resemblance looks quite like Aamir too. In all of Jessica's tweets and pictures, Jaan seems to be a cute kid. It is unknown if he can pull off acting too. All the pictures are taken from her Twitter account and the law of privacy is not been broken here.
With due respect, here are 3 tweets shared by Jessica Hines on her Twitter account. (Love Child Of Aamir Khan)
https://twitter.com/Londonishstyle/status/728990174919708672
Vote for Jaan. Leader of the Society Party. pic.twitter.com/uKAZnS4Y1B

— Jessica Hines (@Londonishstyle) March 8, 2017
This tweet explains her love for India –
Kapaleshwarar Temple, Chennai. https://t.co/LWdOxSkGWf pic.twitter.com/y9F9kkKzXG

— Jessica Hines (@Londonishstyle) April 22, 2017
Love Child Of Aamir Khan – Jessica's love for India is still present and that's the best thing ever.