Hilarious things Twinkle Khanna said – With a humour nerve so active, Twinkle Khanna can throw any stand-up comedian in a tizzy.
Reporters ask her a question and bang comes her taking-the-house-down answer. There are an array of sharp sarcastic jibes on the everyday happenings is attributed to her pen and there is a terrifying clarity when she speaks her mind. She is a woman who has her own mind who takes no qualms in calling herself a bad actor and acknowledging the fact that the entire decision was ridiculously wrong.
Her articles feature in DNA and now she is fondly and ubiquitously called as Mrs.FunnyBones.
Here under are some oh-so-sarcastic Hilarious things Twinkle Khanna said so far: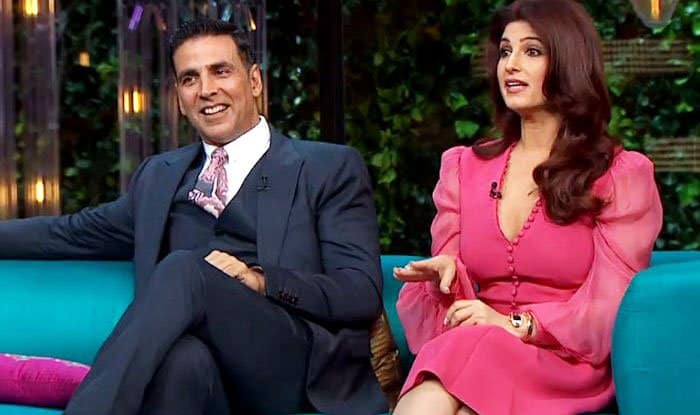 Hilarious things Twinkle Khanna said
In the Koffee with Karan rendezvous, Karan Johar asked Akshay Kumar drawing from his knowledge that their (Akshay and Twinkle's) relationship started as a fling to which Akshay replied it was not and Twinkle caught him off guard by saying 'Oh, it was!'
She shared her view on sanitary napkins somewhat like this- 'We don't need GST on our sanitary pads. What we need instead is an alarm inside it, not a wide breaking one as it would set us on a different path altogether, but an alarm nonetheless that warns us of imminent overflow and saves us from the 100 trips we make to the bathroom just to check. Now that's a product I could not grudge the GST on'
On Mangalayan's launch: "Our little satellite reached Mars because it was called MOM. If it was called DAD, it would still be circling the Earth, lost, but not willing to ask for directions."
On Karva Chauth: "Millions of Indian women fast for their husband's long life on every Karwa Chauth. My dear friend who just won an award does immortalise this in his movies but I don't think that our 3033 gods are really listening. Because when the mortality charts show up, there are 147 countries above us where their men outlive our good old Indian dudes. So ladies stop because it's clearly not working.
Then she bombarded us with the marital alliance proposal for Salman Khan : 'Alliance Wanted For One Of India's Oldest But Most Eligible Bachelors: Dashing, non-vegetarian, successful and muscular Khandani boy. Excellent in dance, drama and art. Girl must be pretty, slim and enjoy long drives off the beaten path. Bride must not be very talkative, as groom cannot tolerate any buck buck. Caste no bar. Contact

[email protected]

'
These are Hilarious things Twinkle Khanna said – She has a devil-may-care attitude to die for. There are times when mudslingers trolled her for no reason but she never stopped being herself.