Deepika copying hollywood dresses – Deepika Padukone is a stunning lady who makes quite a sensation every time she appears on screen. With her bold and gorgeous look and amazingly charming personality, she is quite the crowd pleaser.
Her recent stint in Hollywood, acting in the Fast and Furious franchise has placed her on the global map of celebrities and everything that she does is under the global spotlight!
Deepika has always stunned her fans with her amazing sense of style and fashion. She is often seen to take inspiration from Hollywood celebrities, sometimes even copying them! Here are 10 times when Deepika wore the same outfit as some other Hollywood actress. But we are seriously not happy to see the repeated outfits as India itself has oodles of creative designers who can spell magic with their creativity.
Deepika copying hollywood dresses –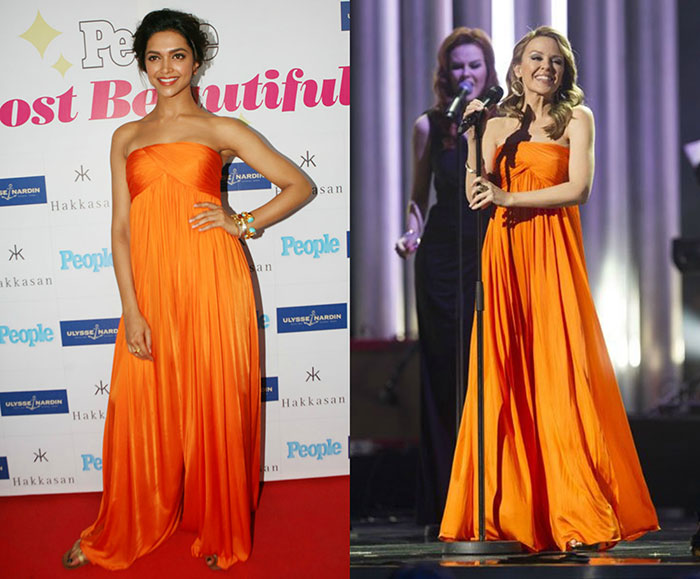 Deepika is seen here wearing the same orange coloured floor seeping gown as the Australian singer, Kylie Minogue. Deepika wore it with a classy hair up-do and a bright orange mouth.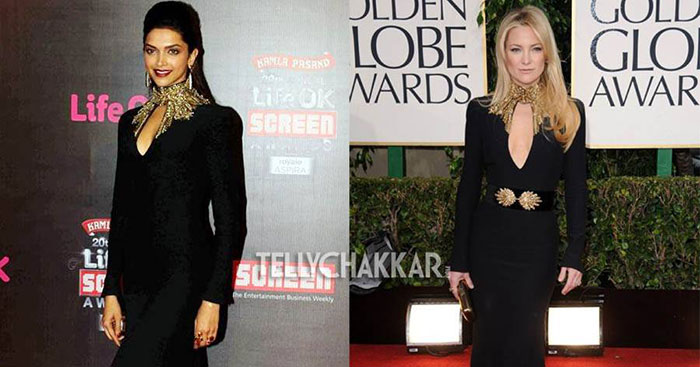 Here we see Deepika flaunting the same black gown as Kate Hudson. The only difference is that Deepika's gown is sans the belt.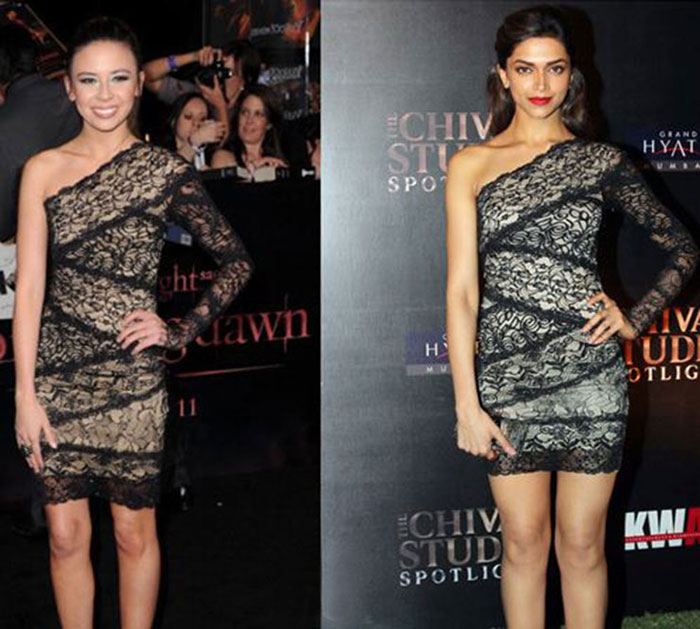 This lace bandage dress that we see on Deepika was also worn to the Los Angeles premier of the  Twilight Saga movie, Breaking Dawn by none other than Malese Jow. Deepika pulls off the look beautifully.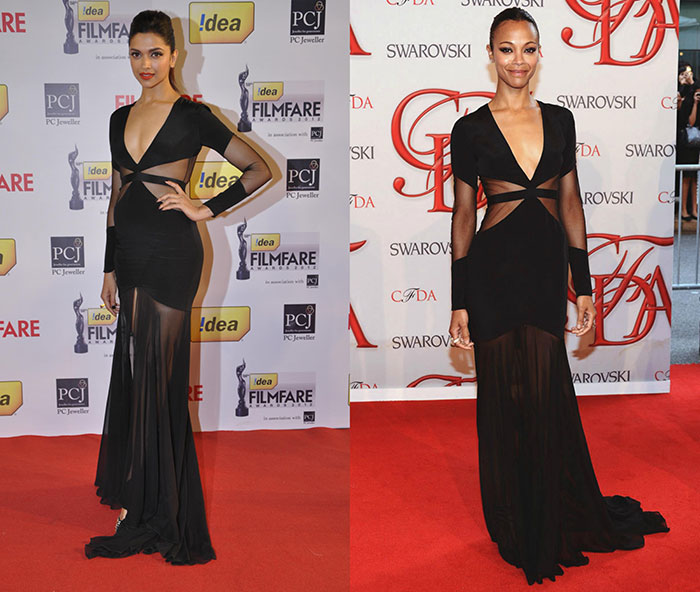 This black cut out gown with sheer panels looks stunning on Deepika who wore it to the 2013 Film Fare Awards. The same outfit was seen on Zoe Saldana the same year.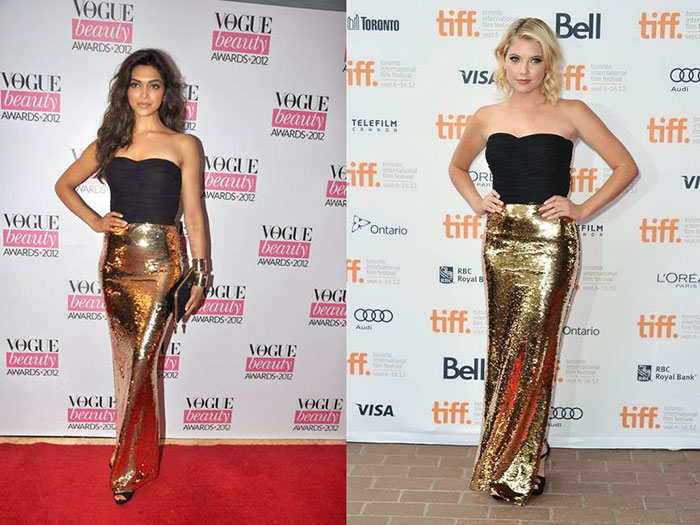 This exact same gown worn by Ashley Benson just highlights the lack of fashion inspiration of Deepika and her stylists.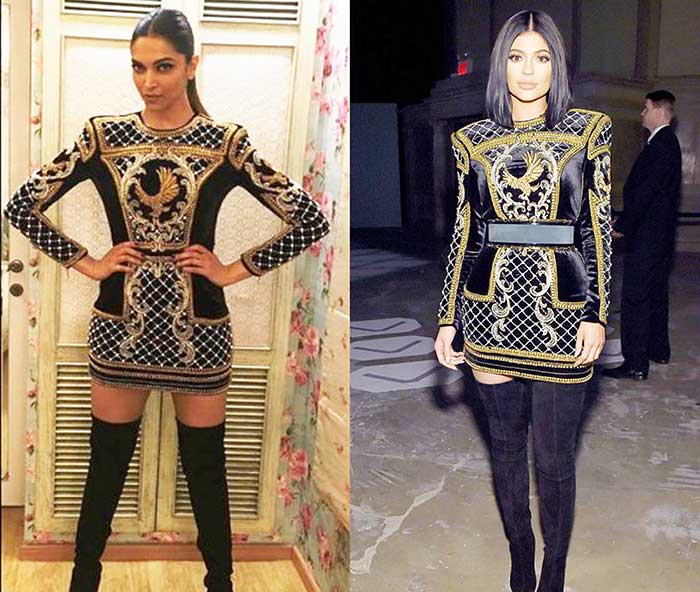 Deepika again copies the same look as Kylie Jenner with this particular outfit and thigh high boots.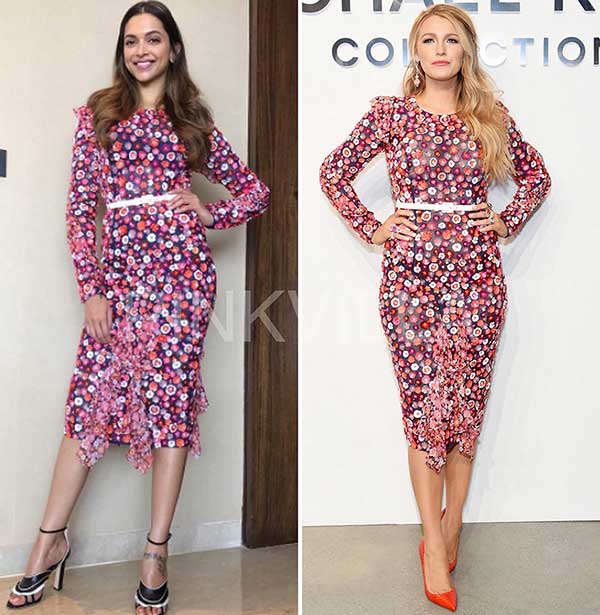 Here we see Deepika and Blake Lively in exact same midi dresses. Both the girls look super stylish but Deepika lacks originality.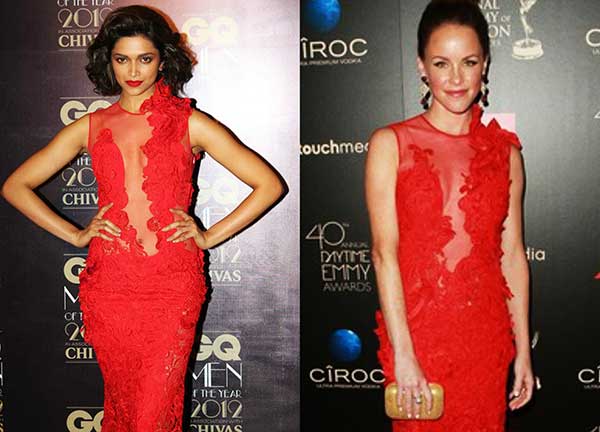 Julie Berman and Deepika are seen wearing the same lacy orange dress on different occasions.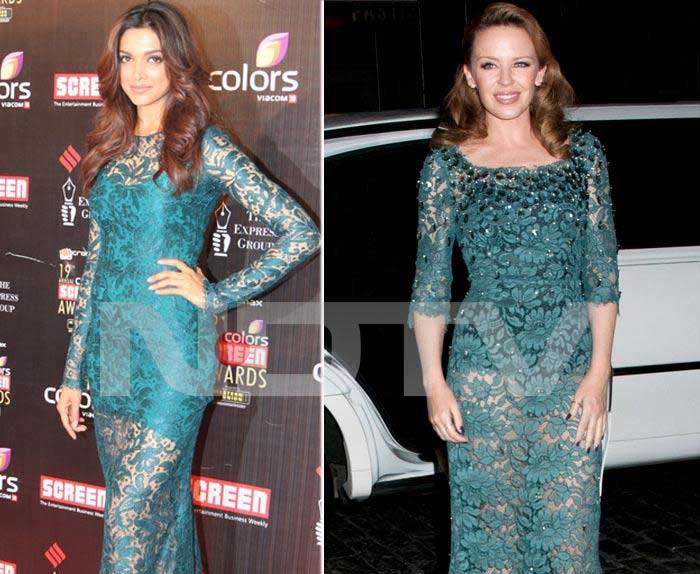 Clearly Deepika is a fan of Kylie Minogue's style as she is again seen wearing the same outfit as the singing sensation from Australia.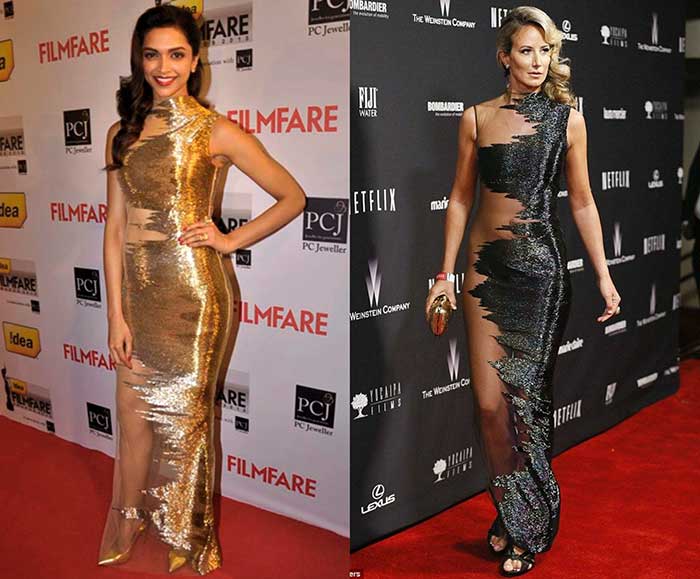 Deepika adds an edge to her style with this sheer panelled gold outfit that she wore to the Film Fare Awards in 2014. Sadly, Victoria Hervey was seen wearing the same dress in black.
This is Deepika copying hollywood dresses – It is clear that Deepika needs to overhaul her wardrobe and our designers need to come up with more original designs so that our actresses can avoid a major fashion faux pas like Deepika!