Shahid Kapoor's character in PPNH is crazy about Salman Khan. Just like Bobby Deol's character from YPD2. Looks like Bollywood is obsessed with the Dabangg Khan. We decode it for you…
That he is a phenomenon is well known. That his movies make Rs 200 crore is written in stone. That he will remain an eternal bachelor is also understood. But did you know that he is one of the few stars that Bollywood filmmakers are obsessed with. So much so that they use him/his name/his character in their movies! No other Bollywood actor enjoys such a starry admiration as Salman bhai. Not even Amitabh Bachchan. If Big B had a special role and song in Bombay Talkies this year, Sallu has one movie like that almost every year!
In the recent over-the-top comic caper 'Phata Poster Nikhla Hero', Sallu mia does a cool cameo where Shahid Kapoor's character aspires to be like the former. The 'Dabangg' Khan had made a special appearance in Rajkumar Santoshi's earlier venture 'Ajab Prem Ki Ghazab Kahani' too. Ironically, there's a scene in the movie where Sallu jokes about Ranbir hitting on the former's then-girlfriend Katrina Kaif. If rumours are to be believed, Kat and RK met on the sets of 'Ajab…' and fell in love with each other. Ouch!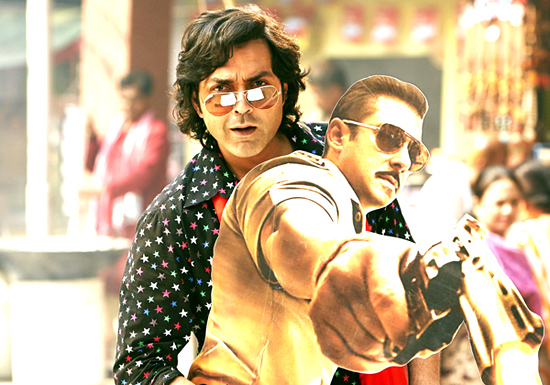 Talking of Ranbir, his upcoming movie 'Besharam' also has many references to Salman's cult character 'Chubul Pandey'. Besharam is directed by Abhinav Kashyap , the same guy who made Dabangg, hence there are many such tributes in the movie. In fact, Rishi Kapoor's inspector character is named Chubul Chautala. A couple of months back, Bobby Deol and Neha Sharma were seen fighting over Sallu's poster in 'Yamla Pagla Deewana 2'. Both were shown as die-hard Salman fans who have watched his iconic movie 'Maine Pyar Kiya' umpteen times. What's it about the bad boy of Bollywood that everybody wants a piece of him in his/her movie? Is it the macho star's bindaas attitude, his unmatched star power, the box office success of his movies or his generosity? We don't see Shah Rukh, Aamir or Hrithik being talked about like this…is it just Khan's efficient PR machinery? There must some reason for a megastar to be pushed like that, isn't it!
It's not that we are complaining, we love watching the Sallu brand of humour onscreen. Imitating somebody is the ultimate form of flattery, right? So we are sure even Khan isn't complaining about it. What has a certain SRK have to say about Bollywood's obsession with his foe-turned-friend? Will the Rs 300 cr Khan now launch his own PR machinery into action? Does it make SRK any less of a superstar? Your guess is as good as ours.