If you haven't watched a masala movie and replicated the 'Dhishum Dhishum' bit at home, you have not LIVED your life! We tell you what to learn from them!
We know how much you love your 'Dhishum Dhishum' brand of movies and how you jump up and down when the hero delivers a punch at the end of a fight sequence (or the beginning, the middle…does it matter?) Yeah, you sir, this post is for you! If you're already peeing in your pants thinking about Akshay Kumar's upcoming masala fare 'Boss', we tell you five things you should watch out for in masala movies. Stop yawning, non-Bollywood fans!
Hero never dies. NEVER
You thought that after the hero was punched in the face 15 times, he would collapse on the ground? Naa…he is just waiting for the right moment to bitchslap the villain. But when you say something against his mother or girlfriend, he would go absolute Ninja on the baddie. Try calling his mother something unholy and he will hit you…with zero preamble. Just when you thought he was down and out, he would come back to kick some mean ass. That's the power of the Indian mass hero. He never dies. Never. And even if he does, he would come back with a 'Punar Janam' twist!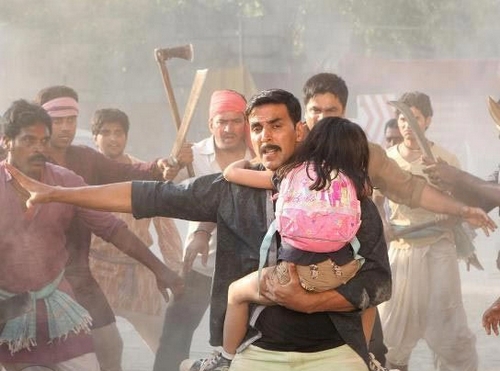 Heroine is ALWAYS the damsel in distress:
Even if the heroine is an IPS officer, she would be stuck in shit and the hero will come and rescue her. She may be tough, independent and very modern…but she will go all Meena Kumari when some villain turns up to misbehave with her. How the hero ALWAYS arrives before her 'Draupadi-esque' scene (shattering the window, of course) is currently what NASA is trying to understand. They wish to implement that in their next space mission. You should also note that when the leading is independent and bold, she is seen in modern wear. But when she lands the hero, she goes Sati Savitri on us. Because disrobing the saree is more fun than a skirt, eh?
There is time for punch lines. Always.
Forget the hero's mother who is hanging for her dear life. The hero will say his monologue, facing the damn camera with rage in his eyes, before rescuing his poor mother. If he hasn't said his punch line, he is not the hero…duh! If you haven't watched a single Rajnikanth's movie, you should stop reading this NOW and get a couple of CDs of the Tamil superstar. He is generally known as the Thalaivva of masala fares.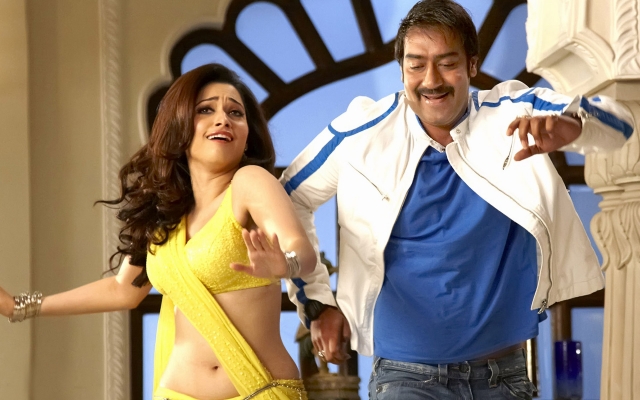 Double meaning jokes:
The only time the hero is bashing the beejus out of anyone is when he is mouthing double meaning jokes. It's either to the heroine (who is yet to become his ladylove) or his bunch of buddies (who never seem to find a chick of their own). If there are no Maa-Behen jokes thrown about, it's not a masala flick, yaar! Why masala entertainers even bother with a plot, a couple of jokes and songs and dance…we don't know! They can just land up on the sets and start beating up, no? Why jokes when nobody is in the mood for it?!
Ugly villain has a gorgeous daughter:
He is the epitome of ugliness with scars and all that jazz, while his ONLY daughter is nothing less than a diva. If you spot an average looking girl onscreen, that's the heroine's best friend! We don't really know how the mother looked because she is dead. No self-respecting masala movie heroine wants her onscreen mother to be alive. It's made on a shoestring budget, you see?