Caterpillar fungus of Himalayan Viagra is in talks right now across the World. This is a herb that grows in the pasture between 3,300 metres and 4000 metres in the widespread areas around the Himalyan regions of Nepal, Bhutan, India and Tibet.
The local people know this as Yarsagumba or a small herb which has a standout combination of a yellow caterpillar and a mushroom. This kind of fungus grows when the temperature increases and the snow has a meltdown but when it rains cats and dogs, tge herb, most of it to say, gets swept away.
Scientifically, the caterpillar fungus is called Cordyceps Sinesis which is an antecedant of the rainy season. The spores of CATerpillar fungus infect himalayan ceterpillar's body and cleaves into it to appear through the insect's head. This fungus is a fatal parasite that derives its energy from the caterpillar wringing it dry off life.
The caterpillar fungus is a narrow, brownish yellow, 2 cm long plant that is stem like and raises its head from the earth's surface.
However, this fungus is benevolent too by many measures such as being rich with the variety of nutrients and minerals that include cordycepin acid, cordycepin, D-mannitol, polysaccharide, SOD, fatty acid, nucleocide protein, vitamin A, Vitamin B1, B2, B6, B12, serien, zinc, copper, cabohydrates etc.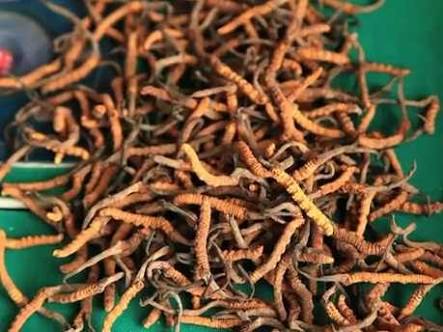 The medicinal value of the highest order has earned it the benefiction of the title 'Himalayan Gold' or 'Himalayan Viagra'. This is not only effective in sprucing up your sexual energy for a better performance but in curing many ailments in children, adults and the aged.
Read on below for the key seven benefits of the herb:
1. Himalayan Viagra is a cure for erectyle dysfunction in many countries, especially in china where medical practitioners swear by it for its effectiveness to increase your sexual energy and endurance
2. It is also a great cure for premature ejaculation and impotency. It gradually empowers internal energy of the body in a very natural way.
3. Studies have also lately revealed that this Caterpillar fungus has antibiotic properties. The herb can also treat respiratory dysfunction and lung disorders.
3. Cordyceps sinesis has anti-inflammatory properties too which is high in analgesic content. It promotes vitality and increases physical stamina of the body.
4. The Chinese medical practitioners also use it as a cure for many liver ailments and Hepatitis-B.
5. Cordypeptin was found effective for tuberculosis also. In the treatment of leprosy too it bears a lot of effect.
6. You may be amazed to know that this viagra is a great cure for Leukemia or blood cancer.
Himalayan Viagra has become all the rage these days and there are many YouTube videos on its origin and effectivity. However, its prosperity is now being threatened for many a natural reasons.