Sexual Harassment Charges On ScoopWhoop Founder –
Seriously, WTH is happening?
Earlier, it was all about TVF's founder Arunabh Kumar who caught attention against "Sexual Harassment in workplaces", and now according to a report by Catch News, ScoopWhoop's co-founder Suparn Pandey has now booked against Sexual Assault and Sexual Harassment by an ex-employee.
It is such a shame to read about so many girls surviving in the workplaces like this.
There are many people who came forward to talk about work place ethics and sexual harassment. After TVF's incident, this incident has taken the internet by storm and is equally worse.
While we are here discussing about punishing the people who are behaving badly, ScoopWhoop's other founders have crossed their limit even more. According to the report, the complainant has also accused other ScoopWhoop founders "Sattvik Mishra and Sriparna Tikekar" who attempted to cover the whole matter to save company's name.
Sexual Harassment Charges On ScoopWhoop Founder –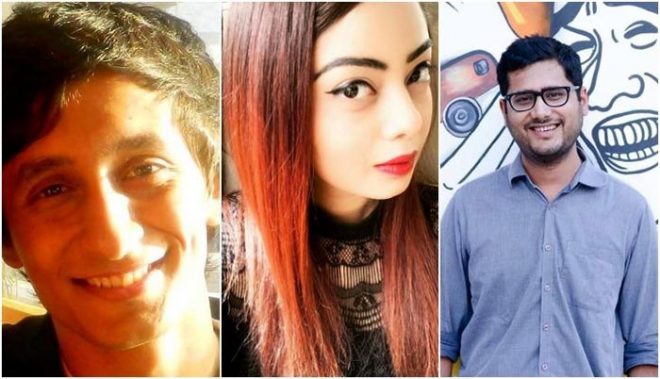 Suparn Pandey, Sriparna Tikekar, and Sattvik Mishra – (Image Source: Catch News)
The ex-employee had worked with the company for two years (2015-2017) and she revealed "she faced inappropriate comments and lewd remarks" the entire time while she was working there.
According to the report, she revealed – "Mr. Suparn Pandey in public commented on my sexuality and this comment included calling me names which reflected on my sexual orientation and my sexual preferences as well as characterized me in a certain way"
Not only that, she revealed that "he tried getting close to me" and "he use to play with my hair". He even sent her a lewd video on company's official Gmail chat, in which the words included "aapnu jeans dheeli karo".
The ex-employee has filed a complaint at the Vasant Kunj (South) Police station, Delhi. He is charged with section 354 A (Sexual Harassment), section 506 (criminal intimidation) and section 509 (insulting the modesty of a woman).
The ex-employee tried to bring the matter in other founder's attention, but Sattvik and Sriparna turned down the complainant by publicly humiliating her.
It is such a shame to know that a girl is not supportive enough to comfort another girl in such case.
Catch new also reported "Suparn Pandey used to show up drunk at work, would try to touch her inappropriately. At one point he even crossed his limits "Mr. Pandey approached me after the meeting, between 8-9:30PM, when I was alone at my work desk and asked me to be less "aggressive" in my dealings with other people and learn to "pour some sugar on it." That after that, he then got up, kissed my forehead and walked away.
When she tried complaining, the co-founders used to threaten to destroy her career. Somehow, she resigned from ScoopWhoop.
Catch News report also reads – "ScoopWhoop co-founder Suparn Pandey filed for anticipatory bail today, but was denied the same. The court, however, has told Delhi police that they will have to provide Pandey with 5 days notice before arresting him. When contacted for a comment, ScoopWhoop co-founder Sattvik Mishra said that the organization would release a statement in the next few hours."
Overall it is really disgusting to know that women are assaulted in workplaces so miserably. Ever since the incident, Catch News tried reaching the Sriparna Tikekar and Sattvik Mishra, but they haven't commented it yet.
Enough is Enough! Such incidents should not be neglected now.
Sexual Harassment Charges On ScoopWhoop Founder – Any thoughts? Comment below.