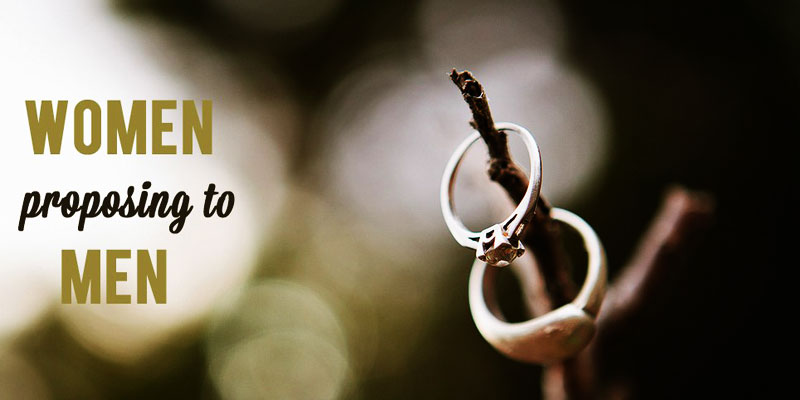 It's not easy for a girl to propose to a guy, despite it being 2014. No, not because girls don't have the guts, it's mostly because guys don't appreciate the role-reversal.
Proposing is predominantly a male domain and they don't like it when women take the initiative. While sensible guys find it interesting and amusing, jerks think of it as an insult. We will let you decide the merits of both the arguments, but here are five ways to propose to a guy and floor him…read on:
Do it with a tease:
Don't forget that men like the chase and a little bit of tease will go a long way with them. Even if you're taking the initiative, let them believe that they are in charge! If you really want to floor him, give your prized twins the much needed due and get them into action. And if you're not comfortable going that route, tease him with your charm, intelligence and innocence.
Be yourself:
Don't try to change yourself into something that you're not to win him over. It will never work because one day the truth will come out. Don't be embarrassed by your overly romantic gestures or clumsiness. It's totally okay to be foolishly in love as long as you don't hurt yourself. Women are emotional and we work in a different way when it comes to the matters of the heart. So if you're smitten, show it and feel it.
Shower him with all the attention:
If you planning to propose to him, do it by showering all your attention on him. Make him feel special. He might not show it, but he sure enjoys being treated like a king! Who doesn't, right? When he sees the kind of efforts you have put in, he will definitely say 'yes'. Reason enough to shower him with all the attention, eh?
His favourite stuff:
Whether he likes a particular sport or action figure or junk food, make sure you have that as part of the date. It's important to take him to a place where he will have fun than doing stuff that you like. Remember, you're proposing to him and you have to keep his likes and dislikes in mind. Don't worry, if the date works out, he will remember to something nice for you too.
In the middle of his favourite match:
Pop the question right in the middle of his favourite match! Imagine his surprise when he is engrossed in an epic game and you come to up to him and tell him about your feelings…if he says yes, he will have two reasons to enjoy the match. And if he says no, at least he can pretend to be involved in the match and avoid all awkwardness with you. Win-win, eh?
More than anything, make sure that you're sincere while asking him out. Don't do it because you have been asked to, do it because you want to.