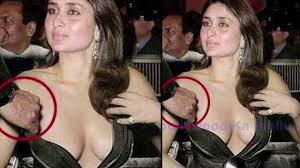 Wardrobe Malfunction Videos – The only breather from the everyday mundane is humour.
Weekdays are toiling but once you seek refuge in humour, you will be sorted for a lot of energy to beat the weekday woes. Most people, especially girls spend their work breaks watching cat videos back to back or revisiting the comedy episodes from their favourite serials. But then You Tube inundates you with many wardrobe malfunction videos that tickle your funny bone all right. After all, there is nothing wrong in gloating over the hilarious miseries of others and these wardrobe malfunction ones are funny AF.
Check out here some of the Wardrobe Malfunction Videos :
Wardrobe Malfunction Videos –
Famous people are always under the media watch and their wardrobe malfunctions make the news always. Because they have made a name for themselves, their awkward slips make clickbait for many entertainment websites. This video shows how actress Jenifer Hudson, Catherine Heigel and their likes have gone through the catastrophic malfunctions and how the show hosts came to their rescue.
This video shows how celebrities like Monique Coleman too go survived wardrobe malfunction that made the buzzword for quite some time. Also, there are instances how the participants on live shows have been preys to wardrobe malfunction that brought them utter embarrassment in the live TV.
Being a news-presenter is a tough job because it is being telecast live and everything needs to be on point. But bloopers happen there too as some news presenters fall victim to worst wardrobe malfunctions. Of late there have been many instances of such and this video shows that.
In line with the previous video, this one too shows how some news presenters had wardrobe malfunctions but they stuck to the 'show must go on' ideology and chose to ignore it. But how are we supposed to ignore, it is so eyeball grabbing man!
One can't dress to the nines for Gym but it is a thumb rule to wear comfortable and well-fitted clothes there because you while you workout or train others, you are not likely to be able to pay heed to your properness of your clothes. These trainers too have suffered the worst wardrobe malfunctions while showing some work out moves on live television that made us laugh like crazy.
Some Bollywood celebrities are controversy's favourite child for their wardrobe malfunctions. We wonder if they did it on purpose to garner some publicity that they could not through their acting. Whatever may be the case, the instances did rounds in the media so in our minds for long and here is a compilation of them. At least we never this from our sweetheart Katrina!
Then again, the list goes on as Begum Kareena Kapoor too had to suffer wardrobe malfunction. Then there are the names like Disha Patani, Parineeti Chopra, Deepika Padukone, Sushmita Sen etc whose wardrobe malfunctions made our jaws drop.
These are Wardrobe Malfunction Videos – Some videos may look sexist to you but what could one do, what we see had to be shared to you for serious laughter. Laughter is meant to be spread, after all.